WelCom December 2020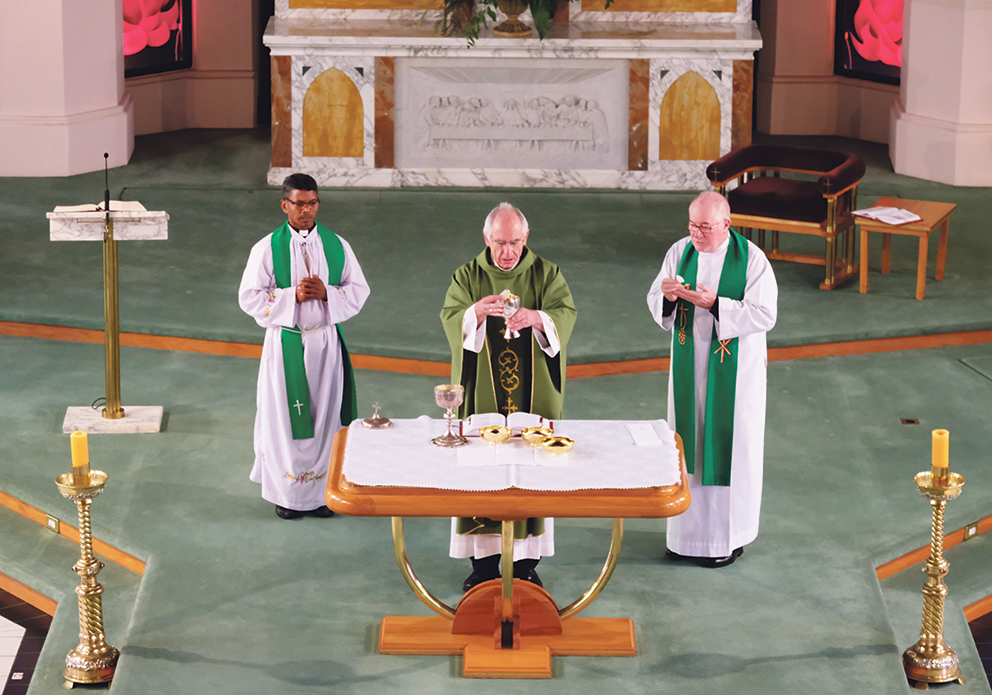 The New Zealand Catholic Bishops Conference (NZCBC) met in Palmerston North, October 27 to 30, as an opportunity to show support to Palmerston North Diocese parishioners, staff and clergy a year on from Bishop Charles Drennan's resignation.
The NZCBC usually meets four times a year, with three meetings in Wellington, where the secretariat is based, and the fourth rotating between the other dioceses. The Palmerston North meeting, originally planned for April, was replaced with a video-conference due to the Covid-19 lockdown.
Attending the meeting in October were Cardinal John Dew, Archbishop of Wellington and Apostolic Administrator Palmerston North; Bishop Stephen Lowe, Hamilton; Bishop Paul Martin, Christchurch; Bishop Michael Dooley, Dunedin; Auxiliary Bishop Michael Gielen, Auckland; as well as Monsignor Brian Walsh, Vicar General and Local Administrator of Palmerston North. Bishop Patrick Dunn, Auckland, was unable to be present due to the bereavement of his younger brother Christopher.
Special guests included the Apostolic Nuncio to New Zealand, Archbishop Novatus Rugambwa along with the nunciature's new First Secretary Msgr Jose Martinez Franco and the outgoing First Secretary, Msgnr Edward Karaan. It was an opportunity to welcome Msgr Martinez Franco and to thank Msgr Karaan for his three years of service in New Zealand.
The NZCBC meetings enable New Zealand's bishops to discuss key Church issues and matters concerning all the dioceses. They review reports from NZCBC agencies and parties, and correspondence with Vatican entities and other external organisations. The meetings also enable the bishops to collectively promote the Church's mission and activity in favour of all people.
Topics discussed in Palmerston North included progress on the church-wide Te Rōpū Tautoko group's engagement with New Zealand's Royal Commission into Abuse in Care; the work of the National Office of Professional Standards; and a way forward for the Church beyond the Covid-19 pandemic.
At an informal pastoral session, Isabella McCafferty, parish and pastoral support coordinator for the Palmerston North Diocese, was invited to give a presentation on how the Church could find new ways forward post-Covid rather than return to the old.
'We are not called to restart in order to return to the normality of a golden age, which in reality never was golden, but instead to start anew,' Isabella said. 'The narratives of the restart are harmful, because they naturally tend to restore balances that must change. We need a new beginning.'
A specific agenda item involved the bishop's decision to commission an artwork to commemorate Bishop Jean-Baptiste Pompallier's 1838 dedication of the country to Mary. The commissioned artwork is a significant initiative for 2021 to honour Our Lady of the Assumption in the lead up to next year's Feast of the Assumption, August 15.
Other agenda items included the work of national agencies and organisations – Holy Cross Seminary, Caritas Aotearoa New Zealand, Te Kupenga-Catholic Leadership Institute, the New Zealand Catholic Education Office, and Te Rūnanga o te Hāhi Katorika ki Aotearoa.
Many decisions made at the NZCBC meetings support the work and strategic direction of these national agencies.
The meetings also provide the bishops a valuable opportunity to spend time with the directors and staff of their agencies. On the first day of the bishop's meeting in Palmerston North they were greeted by diocesan staff with a mihi whakatau. The bishops also met with Fr Brendan Ward, Rector of Holy Cross Seminary; Dr Areti Metuamate, chief executive of Te Kupenga (via video); Dr Kevin Shore, new chief executive of the Catholic Education Office; Paul Ferris, recently-retired Catholic Education Office head; and Catherine Fyfe, chair of Te Rōpū Tautoko.
Cardinal Dew was elected the next NZCBC president, replacing Bishop Dunn. Bishop Lowe was elected vice president and will remain secretary. Bishop Martin was appointed to the NZCBC permanent council.