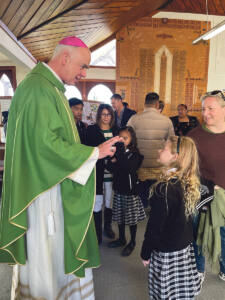 WelCom August 2023
Cathie Bell
One hundred and fifty years of Catholic education in Marlborough were celebrated over a weekend in early July as St Mary's School in Blenheim marked its milestone anniversary.
Celebrations began with an open day on the Friday, the last day of the school term – and principal Paddy Dowling's final day at the school – and culminated with a formal dinner on Saturday night and a Jubilee Mass on Sunday morning.
Students and teachers joined parishioners to celebrate the anniversary. The presence of the school children in the church was particularly welcomed. The school has been unable to celebrate Mass in St Mary's Church because of Ministry of Education rules preventing school activities in buildings with low earthquake ratings.
Archbishop Paul Martin sm also attended the celebrations. In his homily at Mass he said he joined the congregation in being thankful for all that has gone before in those 150 years.
'We all sit on the backs of those who have gone before us, and we in return are doing what we can for the generations of the future,' he said, citing the work of Fr Garin sm, the Sisters of Mercy, the De La Salle brothers, parish families who strongly supported the provision of religious education in Marlborough, and our teachers today who continue to ensure the children of the parish have a Catholic education.
'We live in a very different world from those who have gone before us. However, the essentials haven't changed. We are still in need of the Good News of Christ.'
After Mass, parishioners joined Archbishop Paul and the children in opening two new facilities at the school, funded by a bequest from a parish family.
The opening of the new buildings provided an opportunity to showcase the school to parishioners. Paddy Dowling, who was leaving for new opportunities in Christchurch, said it was 'so good' to have the community back at the school.
St Mary's new principal Bridget Comer started at the beginning of Term 3 on 17 July.