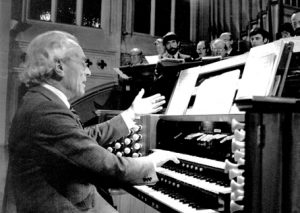 WelCom June 2018:
The Perfection of Sound – a special pre-launch recital featuring Chris Hainsworth on the Maxwell Fernie Organ will be at St Mary of the Angels Church, Boulcott St, Wellington, 7.30pm, Friday 15 June.
The Maxwell Fernie Organ at St Mary of the Angels, was revolutionary in its time and has a special place in New Zealand organ history. A book documenting the design and building of the organ in 1958, overseen by Maxwell Fernie (1910–99), is to be published later in 2018.
Former pupil of Maxwell Fernie and current Titulaire at Béziers Cathedral, France, Chris Hainsworth, will demonstrate the range and versatility of the organ with a selection of French music plus pieces by Bach, Franck, Vierne and Widor ‒ all favourites of Max.
Following the recital there will be an opportunity to pre-order a copy of the book and enjoy a special display of Maxwell Fernie memorabilia from his time as Music Director, in the newly restored choir room.
All are very welcome to attend this landmark event. There is no charge for admission.