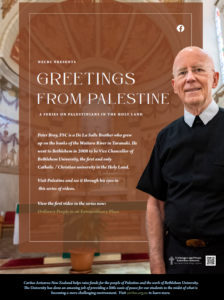 WelCom November 2022
Bethlehem University Vice-Chancellor – Taranaki's own Br Peter Bray fsc – will give a series of public talks about Palestine during his visit to Aotearoa New Zealand early next year.
Br Peter has been making a series of videos about life in Palestine through his eyes as a New Zealander living and working in Palestine. Called Greetings from Bethlehem and intended for a New Zealand audience, the series is being produced for the New Zealand Catholic Bishops Conference – Te Huinga o ngā Pīhopa Katorika o Aotearoa.
Br Peter says the videos stem from the bishops' statement in July about the long-standing Palestine issue (catholic.org.nz/about-us/bishops-statements/end-palestinian-suffering/).
'The bishops mention their concern for the ordinary people in these occupied territories,' Br Peter says. 'One of the things I believe is crucial for people in New Zealand to realise is that these ordinary people have desires, and longings, and dreams the same as people in New Zealand.'
The first video, Ordinary People in an Extraordinary Place; Palestinians in the Holy Land, can be viewed on YouTube (youtube.com/watch?v=d2S_A4kBfeU).
The bishops conference will announce details about where and when Br Peter will be speaking during his visit to New Zealand early next year as soon as the information is available.
Bethlehem University was established under Israeli occupation in 1973. It was the first university established in the Occupied West Bank territory of Palestine and is the only Catholic university in the Holy Land.
Immediately before moving to Bethlehem in late 2008, Br Peter, a De La Salle Brother, was the Director and CEO of the Wellington Catholic Education Centre. There, he led the creation of a master's level educational partnership with the Australian Catholic University, and the utilisation of online delivery for the centre's educational programmes. Br Peter's work as a teacher and education consultant has taken him around the world.
Caritas Aotearoa New Zealand helps raise funds for the people of Palestine and the work of Bethlehem University. Visit caritas.org.nz/where-we-work/palestine to learn more.