On Saturday, January 30, Brigidine Sisters and ex-students gathered in Masterton to give thanks for past blessings and to farewell St Bride's Convent which opened in 1898.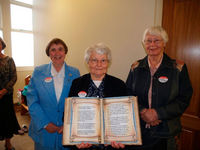 The weekend began with a thanksgiving dinner attended by the St Bride's Old Girls' Committee, the NZ Brigidines and visiting Brigidines from New South Wales most of whom had previously lived and worked in New Zealand.
Parishioners in late 1800s costume greeted those who arrived for the Eucharist on Sunday January 31. The president of St Patrick's Parish Council, John Bunny, did the official welcome. John's grandfather had been one of those present to welcome the first Brigidines to Masterton, as had the ancestors of many of the people present. On behalf of the Brigidines, Sr Anne Phibbs welcomed the priests, ex-students and friends and gave a reminder of Msgr John Carde's words at the centenary celebrations that the 'trace elements' live on after the Sisters have departed.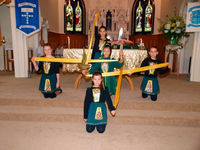 During the Eucharist, presided over by Archbishop John Dew, a lovely liturgical dance from students of St Patrick's School ended in the shape of the Brigidine badge.
The closing ritual which Sr Monica Landy devised was really beautiful. Following the Eucharist Sr Maura Phelan, New Zealand's oldest Brigidine, was escorted to the Book of Memories where she officially closed the chapter on St Bride's Convent with these words: 'I now close the last chapter of 112 years of history of St Bride's convent. We give thanks for all those who've walked through its portals and for the many blessings found there.'
After candles were presented to each of the New Zealand Brigidines and special presentations had been made it was particularly moving to leave the church through an archway of St Brigid's crosses held by the students of St Patrick's School and Chanel College.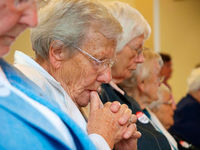 Close relatives of the pioneers were at the celebrations including Gabriel Flavin, niece of pioneer Mother Joseph. Fr Wally Cooke, grand-nephew of Sr Canice Cooke, another of the pioneers, concelebrated Mass along with Bishop Owen Dolan whose relative had been the head teacher at St Patrick's school when the Brigidines came to Masterton to take over the running of the school. It was Sr Joan McKenna's great-uncle, Monsignor John McKenna, who first invited the Brigidines to come to Masterton, New Zealand.
Foxton 1911 – 2010
The Brigidines' presence in Foxton from 1911 to 2010 was the catalyst for parishioners' genuine warmth and love showered on Sr Joan. On February 3, parishioners gathered to farewell Sr Joan, who had served in the Foxton Parish for 27 years, and also to farewell the Brigidine Sisters after 99 years of service to the people of Foxton and Shannon. An evening Eucharist, celebrated by Bishop Owen Dolan, Frs Kieran Rice and Des Darby SM, was followed by a country supper, good conversation and the presentation to Joan of a computer desk and chair.
Farewell to Sr Suzanne Grant
Sr Suzanne is returning to the New South Wales Province after 50 years of service in New Zealand. Suzanne was a pioneer teacher at Holy Family School, Porirua, from 1960 – 1964 and then taught in Johnsonville, Meadowbank, Auckland, Foxton and Masterton.
She will be greatly missed by all who know her.