WelCom December 2020
Colleen Restieaux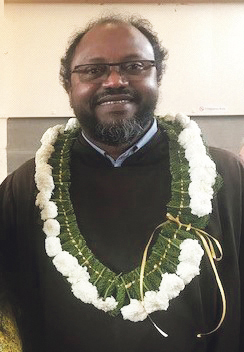 Close to 400 people from throughout Wellington gathered in St Patrick's Church, Kilbirnie, on Sunday 18 October, for the farewell and thanksgiving Mass to the community of the Capuchin Franciscan Friars. The Capuchin community has served in the region for over 60 years.
Since March this year, Rev Ephrem Tigga OFM Cap, parish priest for Holy Trinity Parish of Wellington's Eastern suburbs, has been the sole Capuchin friar in Wellington, after his two fellow friars returned to India – Fr Gregory Lakra in March this year and Fr Paulus Nag in 2018.
Because the Capuchins live in community, the Wellington Friary is being withdrawn from the Archdiocese at the end of 2020 to locate to the Capuchin Holy Cross Friary in Henderson, Auckland.
The Capuchins, on invitation from Cardinal Peter McKeefry, have been continuously involved in parish ministry, chaplaincy, missions and retreats in Wellington since 1958 – recognised by their distinctive brown habits with a large hood.
The priests and brothers mainly from Ireland, Indonesia, Philippines and India, have worked generously for the Church in Aotearoa New Zealand – first in Wellington, at St Vincent de Paul Parish, now Otari Parish, and then from 1996 at St Patrick's, Kilbirnie, now part of Holy Trinity Parish.
The friars have also ministered in Auckland, Dunedin and briefly in Christchurch.
In 2016 the Irish province of Capuchins transferred the responsibility for New Zealand to the St Fidelis Province of North India. The Capuchins' work in New Zealand, continues mainly in the Auckland Diocese.
Fr Sebastian Fernandes OFM, Capuchin superior in Auckland, has agreed to Fr Ephrem staying on in Wellington at Holy Trinity Parish until the end of January 2021. A farewell Mass for Fr Ephrem as parish priest will be celebrated in the parish on Sunday 24 January 2021.
We are grateful for the presence and work of all the Capuchins who have been with us in Wellington over the past 60-plus years.