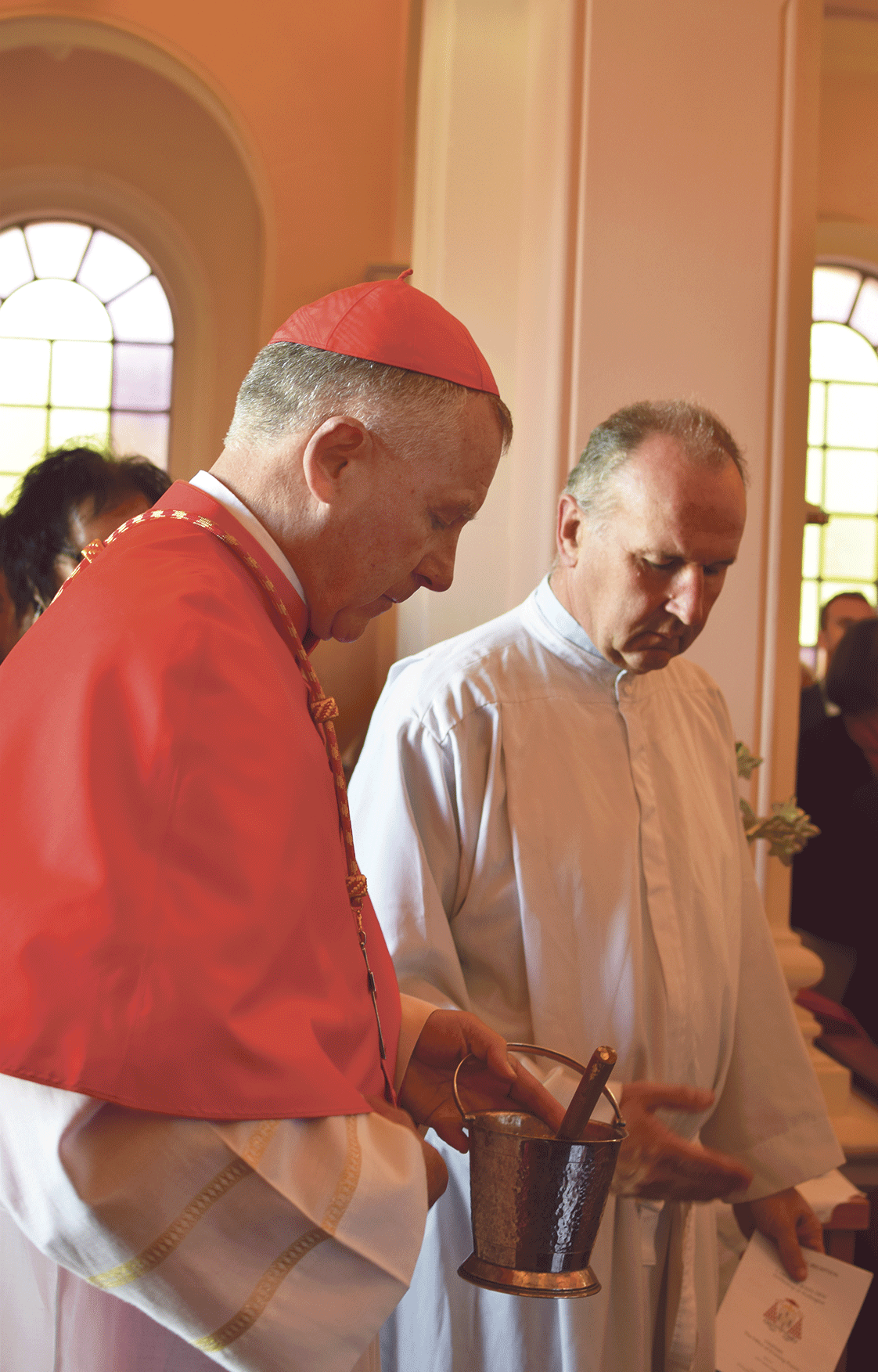 April 2015
Opinion
Cardinal John Dew
On Friday 6 March 2015 Sacred Heart Cathedral was filled with people excited to welcome home Cardinal John from Rome. The Liturgical reception was an opportunity for people to celebrate Cardinal John's new responsibility, to acknowledge his decades of ministry and leadership, and to pray the Prayer of the Church – a daily practice for Cardinal John. As well as prayers, and the music led by the Cathedral choir, Cardinal Tom Williams, Emeritus Archbishop of Wellington, and Archbishop Martin Krebs, Apostolic Nuncio to New Zealand, paid tribute to Cardinal John. They gave insights into his new call to service, and reminded everyone to pray for him.
The following is my reply to Cardinal Tom William's address to me when I was welcomed back to the archdiocese as Cardinal on Friday, 6 March, 2015. I share these words because they are also addressed to all people in the Archdiocese.
Cardinal Tom, thank you very much for your words of welcome, I deeply appreciate your words and I thank you sincerely.
Archbishop Martin Krebs (papal nuncio) thank you for your reflection-homily as part of Evening Prayer. Bishop Charles Drennan, thank you for being here this evening representing the other bishops of New Zealand. Bishop Justin Duckworth and Jenny, Dean Digby Wilkinson and Jane, our neighbours, welcome and thank you for being here this evening. To all of you, thank you for being here and for your incredible support over the last few weeks.
Since the announcement broke, in the early hours of the morning of 5 January that Pope Francis had appointed me to be a member of the College of Cardinals, I have received nothing but love and support, prayers in abundance, and many powerful and wonderful messages of congratulations and promises of prayer. I thank you all for that support.
I received the news about 3am that morning. By 7am I had my first radio interview, in which I happened to say, 'Look, I am just an ordinary Kiwi bloke'. Those words have been quoted back to me many times since. I believe I am an ordinary Kiwi bloke but one I know God has blessed abundantly – just as God blesses all of us.
I asked for one thing only to be included in this prayer and that was the Magnificat, which we just sang. I asked for that first because I really like it, and we sang it when Cardinal Tom ordained me a Bishop almost 20 years ago. I do not presume to say my soul magnifies the Lord in the way Mary's did, but I do know, like Mary, I have received abundant graces from God.
I am not saying to be a Cardinal is necessarily a blessing; it brings huge responsibilities. But the blessings have come through your love, care, support and prayers. I am delighted so many have come here tonight of different ages and nationalities, clergy and religious, women and men, girls and boys, from so many of our parishes. And I am thrilled there are students from our schools and colleges present this evening.
I have been amazed to learn so many people watched the ceremony streamed live from Rome. There was a particular reading from Scripture that day at the Consistory. It was from St Paul's letter to the Corinthians ‒ his famous and well-known hymn to love (1 Corinthians 13):
'Love is patient and kind, it is never jealous, love is never boastful or conceited; it is never rude or selfish…it is always ready to excuse, to trust, to hope and to endure whatever come…
'Love does not come to an end.
'In short, there are three things that last: faith, hope and love and the greatest if these is love.'
Just over 19 years ago, there was a wedding here in this Cathedral, and that well-known passage of St Paul's was one of the Scripture readings. A few days later, everyone who was at that wedding, along with many others, gathered again because the bride and groom were tragically killed in a plane crash. I am very aware there are likely to be family and friends of Liam and Katrina here this evening. The same readings were used at their Requiem Mass as were used at their wedding. I will never forget the way the bride's sister read that Hymn to Love of St Paul and looked over at two coffins as she proclaimed: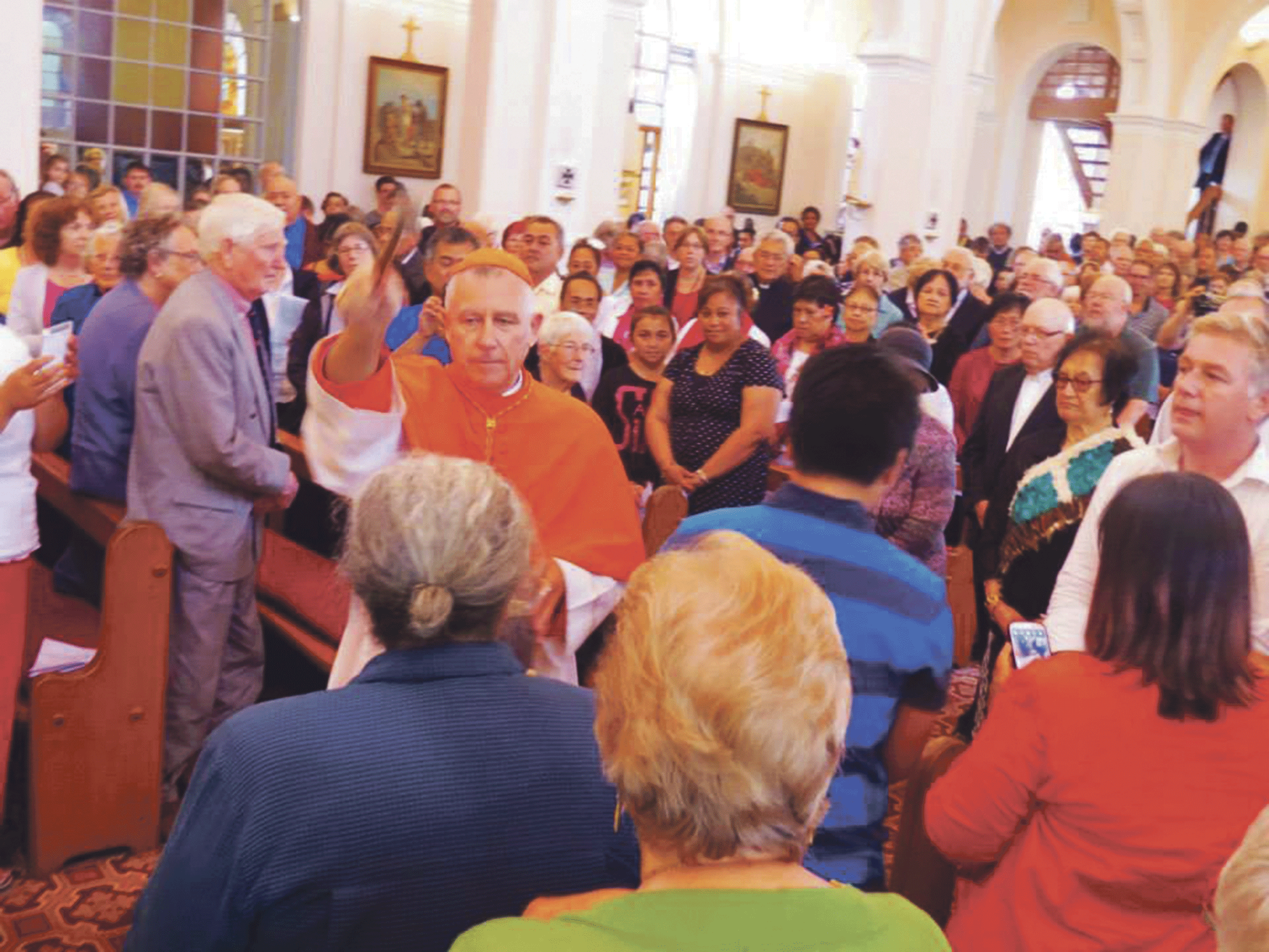 'Love does not come to an end.
'In short, there are three things that last: faith, hope and love and the greatest of these is love.'
Those words have never been the same for me since. However, Pope Francis added more very powerful words to reflect on when he said to us, 'I believe that the "hymn to charity" can be taken as a guiding theme for this celebration and for your ministry, especially for those of you who today enter the College of Cardinals.'
It was a wonderful homily ‒ I am going to share only one line with you because I need your ongoing prayers to help make this a reality. The Holy Father said, 'The greater our responsibility in serving the Church, the more our hearts must expand according to the measure of the heart of Christ.'
I am an ordinary Kiwi bloke. I need your prayers to help me, to enable me to live this responsibility I have been given. I need your prayers, so the incredible gift of my heart being expanded to be like the heart of Christ, may be real for me and for you.
In the letter Pope Francis had already written to the new Cardinals on 4 January 2015, he said, 'Through the Church, the Lord is once more calling you to serve. So as to maintain humility, it will do you good to ponder in prayer Jesus' words to his disciples; "Say, 'we are unworthy servants'." And this, not just as a polite expression, but as a truth to be kept in mind when your work is finished, "When you have done all that is commanded of you."'
Once again, I thank you most sincerely for your wonderful support, love and prayer, and I ask you please continue to pray for me so that I may faithfully do all that the Lord asks of me.
Please pray for me, pray that my heart may be expanded to love as Christ loved, to love with his heart.