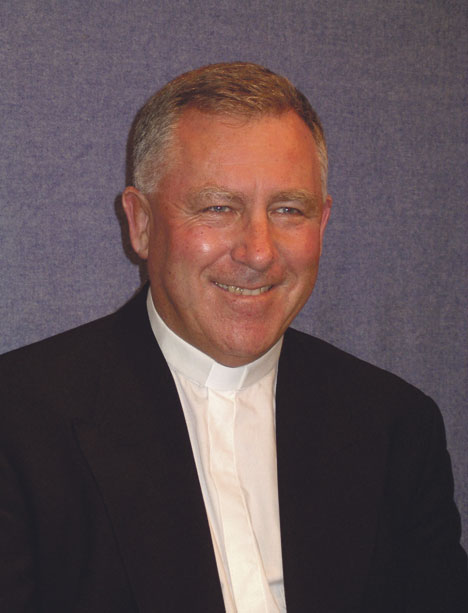 May 2015
Opinion

Cardinal John Dew
Over the last few weeks there have been touching and impressive stories about various events marking the 100 years since the start of World War One, and many events commemorating Gallipoli and the Anzacs. I was particularly moved when I saw an item on the news about a man playing the Last Post at the cenotaph in Blenheim every evening for 100 days leading up to Anzac Day. He created such an interest that one evening 600 people turned up at the cenotaph.
There have been many other initiatives and ceremonies, including a great number involving school children who reflected on how our troops in the two world wars gave their lives so New Zealanders could live in peace and freedom. Many of those children were readings letters saved from years ago – from 'My grandfather, uncle or great-uncle'.
We have all seen those commemorations, maybe have taken part in them – especially on Anzac Day – and we have been inspired by stories of bravery and courage, and of love and support from those at home for those who answered the call to serve their country.
One event many probably do not know about was a simple ceremony that took place at Bible Society House in Wellington on 15 April. I was honoured to be there to present a Bible to Lieutenant General Tim Keating, the Chief of Defence Force. It was no ordinary Bible. It was a World War One commemorative edition, printed on 100 per cent waterproof paper; 1500 copies were presented to the New Zealand Defence Force. The Bible Society in New Zealand, established in 1846, has been presenting Bibles to New Zealand soldiers since World War One. Every year Bibles and copies of the New Testament are presented to new recruits. It is said about 80‒90 per cent accept them.
The commemorative edition is inspirational. There are pages with Scripture quotes for soldiers in times of 'Worry, Addiction, Loneliness, Anxiety, Anger, Hopelessness, Sadness'; there are prayers at the beginning and moving accounts of soldiers carrying their Bibles into battle.
Most of us probably do not know the work the Bible Society does. I continue to be very impressed with their work and their amazing efforts to provide people in New Zealand and overseas with Bibles. Last year alone, 50,257 Bibles and 19,491 copies of the New Testament were provided to New Zealanders.
Another initiative is the Catholic Poverty and Justice Bible, produced in conjunction with Caritas Aotearoa New Zealand. This Bible contains some of our Catholic Social Teachings. Every passage of the Bible that speaks of social justice is highlighted so we can better understand our call to be people who know our responsibility to work for the good of others, to speak out when we know there are injustices, and to commit ourselves to working for a more just and better world.
The mission of the Bible Society in New Zealand is 'to increase the number of people in New Zealand and worldwide who own, use, value and share the Bible by translating, publishing, distributing and encouraging transformative engagement with the Bible'.
When we look at that we might think and ask ourselves what it has to do with us as Catholics. That mission could also be our mission; the only things we don't have to do is translate and publish. If we truly appreciate the Scriptures as 'the Word of God' then surely we would want others, our families and friends, 'to own, value and share the Bible…to distribute and to encourage transformative engagement with the Bible'.
We actually have a responsibility to do so. In his wonderful apostolic letter Novo Millennio Inenunte, Pope John Paul II reminded us, 'holiness and prayer is inconceivable without a renewed listening to the word of God'. In the same paragraph he wrote, 'It is especially necessary that listening to the word of God should become a life-giving encounter, in the ancient and ever valid tradition of lectio divina, which draws from the biblical text the living word which questions, directs and shapes our lives'.
However, it is not just a responsibility we have as Catholics; it is something we discover in prayer. It is the Word of God that gives us life; it is the Word of God that brings us into union with God.
Jesus is the Word of God and He reminds us, in John 6:63:
'It is the spirit that gives life, the flesh has nothing to offer. The words I have spoken to you are spirit and they are life.'