Criminal justice work has traditionally been about care and control and both aspects are needed, the Wellington Archdiocese Justice Peace and Development Commission told the Law and Order Select Committee in July.
Speaking on their submission opposing privatisation of prisons, JPD Commission member Gordon McConnell told the select committee that the commission was concerned that private prison management would cut costs through reducing standards of care and programmes intended to rehabilitate prisoners.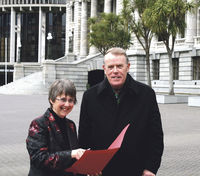 Drawing on 32 years of experience in the Probation Service, Mr McConnell said the service used to be focused on both care and control of former offenders. 'Care disappeared and control took over,' he said.
His experience was that the prison and probation service have become increasingly coercive, hindering the aim of reducing reoffending. 'We must maintain as a priority the rehabilitation of prisoners,' he said.
The JPD submission was prepared by commission members after considerable study, research and reflection on Catholic teaching on criminal justice and reconciliation, as well as the life experience which its members brought to the commission.
Wellington Archdiocesan JPD Advisor Mary-Ann Greaney told the select committee that the commission had reached the conclusion that anything that deprives people of liberty or uses force needs to stay in the hands of the government.
'The chief concern of commercial organisations is to make a profit and, to do this, bed numbers will need to be retained; repeat offending helps achieve this. Every person is a child of God and has an intrinsic dignity that must be respected. If we turn prisoners into commodities from which a profit may be made, they become an economic unit which is contrary to basic human rights.'
National MP Shane Ardern questioned whether the church was consistent in its positions on provision of core services by the State, as the commission was opposing privatisation of prisons but itself runs private schools.
After clarification from other committee members that Catholic schools are in fact state integrated schools, rather than private schools, a lighter touch was added to the hearing when Mary-Ann Greaney commented that while some school students may disagree, 'We don't generally see Catholic schools as depriving people of their liberty'.
The JPD Commission told the select committee they also had concerns that privatising prisons would take prisons away from the oversight of Parliament, and that this would impact on the accountability of prisons.
They were concerned that an expanding public prison service could lead to a growing private prison industry, rather than to an increase in rehabilitative programmes, restorative justice opportunities and early intervention. 'Every person has an intrinsic dignity and needs to be treated with respect,' Mary-Ann Greaney said.