February 2015
Feature
'Light a fire in the heart of the world'

A message from Archbishop John Dew
The theme for the Lent 2015 Appeal is 'Light a Fire in the Heart of the World' taken from Pope Francis' letter Evangelii Gaudium. It invites us to join him in being personal witnesses to our faith through our action as well as our words with everyone we meet.
Please give generously this Lent. Your contribution, however small, helps change peoples' lives around the world.
Voices from Oceania on the Environment
Caritas speaks out for environmental justice to influence attitudes and to create positive change. During 2014 we produced a report on environment challenges in Oceania.
Small yet strong: Voices from Oceania on the environment gives a view from the grassroots and coastal edges of the Pacific region about environmental issues affecting people's lives, livelihoods and cultures. Our partners and contacts across the region, including Aotearoa New Zealand and Australia, speak about deforestation, mining, sea-level rise, changing weather patterns and security of food and water supplies.
The report gives a voice to Oceania peoples on this important issue, based on interviews with many of those affected by such changes. It was presented at the UN climate conference in Lima, Peru, in December 2014. The conference is part of a process to conclude a global agreement by the end of 2015.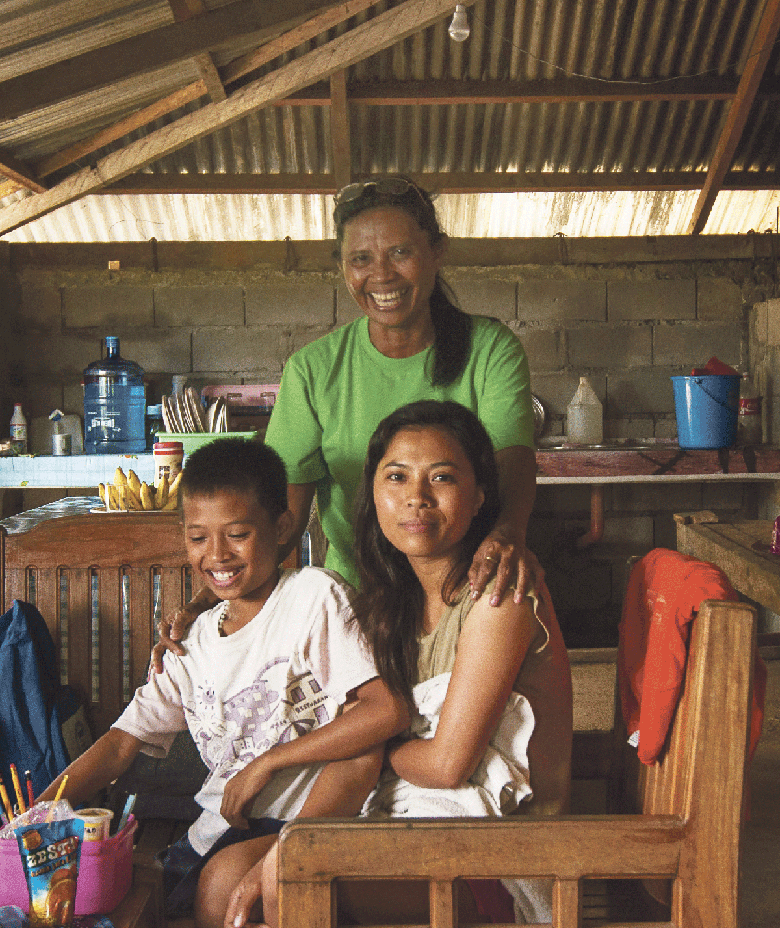 Development: building back better
Donations to the Bishops' Lenten Appeal help us respond quickly to emergencies. Donations also help assist communities to become more resilient by better preparing them for future emergencies.
Typhoons frequently hit the Philippines. Caritas responded quickly with humanitarian aid after Typhoon Bopha in 2012 and Super-Typhoon Haiyan in 2013. But we also continue to work in the country helping hard-hit communities to 'build back better' so they can withstand typhoon damage and other disasters. When Typhoon Hagupit – locally named Ruby – hit the Philippines in December 2014, Caritas' work meant there were far fewer casualties than during previous typhoons. In preparation before the typhoon struck we had helped to organise the largest peacetime evacuation in the country's history.
As part of our disaster-preparedness work with the communities, relief supplies for thousands of families had also been pre-positioned so that essential items could easily and quickly be distributed to those people in need.
Emergency relief in the Middle East
Caritas works with our partner organisations to make a difference in Syria, Lebanon, Iraq and Gaza. There people are suffering due to ongoing humanitarian crises. We stand in s
olidarity and show support for the most vulnerable in the region. Donations from the 2015 Lenten Appeal will support this work.
An example of this important work is that Caritas was among the first organisations to supply food, water, bedding and essential living supplies to families in northern and central Iraq who have been displaced by ongoing violent attacks since June 2014 from the extremist group Islamic State of Iraq and Syria.
Lent reflections
A Caritas Lenten reflection programme is available to parish groups, families, rest-home residents, communities, and chaplaincies to use for consideration, discussion and personal reflection of the Lenten Gospels. It includes prayers, Gospel readings, reflections, and discussion materials to help us live the Gospels.
The programme is available in English, Māori, Tokelauan, Tongan and Samoan. Two booklets in English are supplied free to each parish and may be copied for parish use. Extra booklets are available from Caritas for $2 each. Call us on 0800 221022 or visit our website www.caritas.org.nz/resources/lent to download the booklet
How your Lenten donations help
Caritas Aotearoa New Zealand's work focuses on three main areas: supporting and organising development programmes; providing emergency relief to those affected by disasters; and advocating for those suffering injustice. Here are some examples from the three areas of work we are involved in.
Donating in Lent
Donations to the NZ Bishops' Lenten Appeal are used to support Caritas Aotearoa New Zealand's work by helping those who need it most, and to help light a fire in the heart of the world.
Donate throughout the weeks of Lent, or make a one-off donation by using the Lent Appeal weekly or single-donation envelopes distributed by your parish. Leave your donation envelopes in your parish's collection basket or post to Caritas, PO Box 12193, Wellington 6144. You can also donate online at www.caritas.org.nz, or call 0800 22 10 22.
About Caritas Aotearoa New Zealand
We are the New Zealand Catholic Bishops' agency for justice, peace and development. We make a difference to the lives of people living with poverty or injustice. We work through human development programmes that sustain families and communities, provide emergency relief, education, and advocate for change.
Gospel values and Catholic social teaching underpin our work. We are part of Caritas Internationalis – an international confederation of 165 Catholic aid, development and social-justice agencies. The Caritas network operates in over 200 countries and territories supporting the poorest and most vulnerable – regardless of ethnicity, religion or nationality.