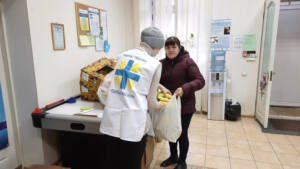 WelCom November 2022
Caritas Aotearoa New Zealand appeals for peace and calls for international humanitarian law to be respected after recent deadly missile attacks and airstrikes in Ukraine.
Explosions have been reported in the capital Kyiv, as well as Lviv, Ternopil and Zhytomyr in Ukraine's west, Dnipro and Kremenchuk in central Ukraine, Zaporizhzhia in the south and Kharkiv in the east. This is the worst shelling since February 24, when Russia invaded Ukraine.
Many civilians have been killed and power and water supplies are damaged in many locations after critical infrastructure has been targeted.
In little more than a week, Russian forces destroyed a third of Ukraine's power stations in repeated attacks targeting the war-torn nation's energy infrastructure, according to President Volodymyr Zelenskyy.
'Since October 10, 30 per cent of Ukraine's power stations have been destroyed, causing massive blackouts across the country,' Zelenskyy said last month.
Caritas Ukraine and Caritas Poland are among the agencies calling for respecting international humanitarian law and protecting civilians and civilian objects from the ongoing hostilities.
The attacks come eight months after the initial attack in Ukraine and as the people prepare for the winter months ahead.
'Those affected by these strikes were ordinary people trying to go about their everyday lives: parents taking children to school, people on their way to work,' said Caritas Ukraine president Tetiana Stawnychy.
'The strikes have made an already difficult humanitarian situation more acute as the country prepares for what promises to be a difficult winter in the coming months.'
Donations to the work of Caritas to assist those who have been displaced by the crisis can be made through the Caritas Aotearoa New Zealand website at www.caritas.org.nz/donate-online