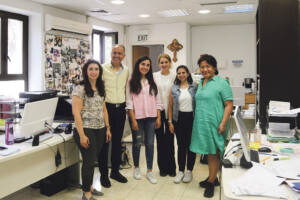 WelCom September 2022
Caritas Chief Executive Officer Mena Antonio returned to Aotearoa New Zealand last month from a visit to the Holy Land and Rome. It was one of the first overseas visits Caritas has been able to undertake since our borders reopened. Mena shares highlights from her visit below.
The main purpose of my visit was to build relationships with our partners in the Holy Land. We also visited projects Caritas Aotearoa New Zealand support there. I visited Caritas Jerusalem, and Bethlehem University. Both these partners are very appreciative of the support they receive from Caritas and from our New Zealand-based supporters as we work for peace and justice. I also visited two of the projects we support. Laura Vicuna School in the Crimesan Valley in West Bank near Bethlehem; and Bethlehem University – our scholarship project which some of our regular givers support.
One of the things that struck me was the region's rich culture and history. The tremendous diversity of religious views, the open expression of faith, the sounds and the different places of worship. It was also wonderful to be able to get a glimpse of the birthplace of our Catholic faith.
I had time with a woman working at Bethlehem University. She lamented that her son, who is six years old, asks every morning to go and visit the sea. But she can't give him that simple activity. It's something we in New Zealand take for granted. It was very clear to me the Palestinian people I spoke with were very young, filled with ambitions, dreams, and aspirations but their freedom of movement is very confined to within the walls.
Caritas Aotearoa is actively involved, through supporting Laura Vicuna School [run in part by Salesian sisters] by way of our youth programmes. Caritas, with the help of New Zealand Catholic schools, has raised funds to repair the toilet block at the school, which will help provide greater access to education for more students. Laura Vicuna School sits in what's called Area C. That's the area of the territory under Israeli rule. The boundary line of Area C goes right down the middle of the school. This would mean that you would have a Palestinian Christian School of which half would sit on the Israeli side and the other half in Palestine. They sit in a space where the future is filled with great uncertainty.
To help make improvements, we are supporting schools, because we can't change things on a national level. We want to be in spaces where we can influence and make changes for the better.
We also had an opportunity to visit Rome and to meet with Caritas Internationalis (CI) and the Dicastery for Integral Human Development, which influences a lot of the work we do for things like World Day of the Poor and Day of Prayer for Refugees and Migrants.
Caritas Internationalis is a confederation of 162 Catholic relief, development and social service organisations operating in over 200 countries and territories worldwide. Collectively and individually, their missions are to work to build a better world, especially for the poor and oppressed.
CI was very well informed about our work and specifically mentioned the State of the Environment for Oceania report that Caritas has been producing for several years. It was encouraging to see our work being taken seriously on the other side of the world as we work together for the care of our common home.