Palmerston North
Rom Rudzki
11 November 2011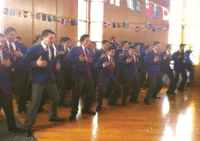 St Patrick's, Palmerston North caught the Rugby World Cup fever hosting a multilingual Mass for visitors.
With visitors in town for the two games: Georgia v Romania on September 28 and Argentina v Georgia on October 2, the parish council planned a special Mass in the Cathedral of the Holy Spirit for the Latin-American and Spanish-speaking members of the parish and rugby visitors.
Bishop Owen Dolan, who is fluent in Spanish, presided with Fr Chris Martin and parish priest Fr Peter Fahy and almost 500 in the congregation.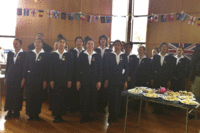 The liturgy was in English, Te Reo and Spanish, with members of the group 'Canta Conmigo' singing in Spanish, and students from Hato Paora and Turakina Maori Girls' College singing in Te Reo.
Two small boys dressed in the pale blue and white striped shirts of the Argentinian team warmed everyone's hearts as they took charge of the Offertory procession with their parents.
It is sometimes easy to forget that Jesus himself was both a refugee from persecution and well-travelled.
His exhortation to go out and preach the gospel to all nations certainly bore fruit in Palmerston North.
As we know, Argentina qualified to play New Zealand in the quarter-finals. The result? Well, you'll know that by now…
Images:
Left: Hato Paora College students perform a haka after the Mass.
Right: Turakina Maori Girls' College singing in Te Reo.