All continents were represented at a recent Caritas Oceania forum exploring Catholic approaches to aid and development work, at the Australian Catholic University in Sydney.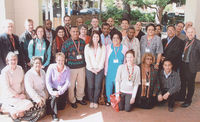 About 30 people attended the week-long workshop, drawing in expertise from Caritas member organisations in Papua New Guinea, Solomon Islands, New Caledonia, Fiji, Kiribati, Samoa, Tonga and Australia, including four staff from Caritas Aotearoa New Zealand. Congolese priest Fr Pierre Ntakobajira represented the global Caritas Internationalis network and Caritas Asia sent a representative.
A New Zealand Marist priest Fr John Larsen, who works with Burmese refugees in Thailand, also attended.
Course coordinator and former Caritas Internationalis Secretary General Duncan McGregor said, 'Caritas' place is there in the fractures of the world where people are suffering.'
Upholding human dignity is central to a Catholic understanding of development. Or, as New Zealander Anne Tuohy said in a speech, 'People are worth something because they're people, not just because they can do something.'
Through the lens of Catholic social teaching, the workshop looked at human rights, ecology, forced migration, culture and peace-building.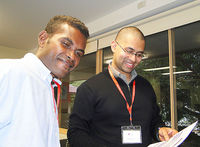 Theology professor Neil Ormerod considered the balance between mission and identity for Catholic organisations.
'Too much emphasis on identity will stifle the mission and make the organisation sectarian − a return to a Catholic ghetto mentality. Too much emphasis on mission and it will become a generalised form of humanism.'
The forum ended by examining ways in which the seven Caritas member organisations in the Pacific could better address the challenges facing the region and their societies – particularly globalisation.
Said Caritas Aotearoa New Zealand director Michael Smith, 'The workshop provided excellent training for participants and developed greater understanding of how Catholic social teaching underpins our aid and development activities. The sharing of stories and experiences by presenters and participants was invaluable to all.'
For more about the work of Caritas Aotearoa NZ www.caritas.org.nz/

Images: above: NZ participants: Caritas ANZ team: Tara D'Sousa and Martin de Jong fifth and sixth from left in standing rows; Michael Smith and Nick Borthwick are two further along, with Anne Dickinson (Caritas Oceania president) in front to the left of Mike. NZ Marist Fr John Larsen is at back right, partly obscured.
right: David Taega (left) of Caritas Solomon Islands, with Nick Borthwick (CANZ).