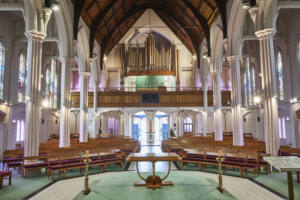 WelCom October 2023
Palmerston North's Catholic Cathedral of the Holy Spirit reopened last month after an arson attack in April closed it for several months.
The fire, lit inside the day chapel, caused minor damage and nobody was hurt. However, the short-lived fire coated much of the inside of the building with a thin layer of ash.
After months of hard work, the cleanup is complete and the cathedral reopened with an early Mass on Sunday, 10 September.
That Mass began with a blessing, which continued at a second Mass and just in time for the St James' Catholic School 65th jubilee celebrations.
Every nook and cranny of the cathedral had to be cleaned, so scaffolding was required. The work started on the wooden ceiling and progressed downwards.
Parish manager Steph Grantham says the scaffolding has been removed and a final 'big clean' was carried out during the week before the reopening.
The pews and other items that had been removed for the mammoth cleaning task have been put back. The carpet was also cleaned.
'Now you wouldn't know if you didn't know [about the fire]. Some items, big curtains and other things have been sent off for cleaning.'
While the biggest tasks have been completed, Steph says many smaller things will take their place on the parish 'to do' list.
The cost of the cleaning is covered by insurance.
Source: CathNews; Stuff