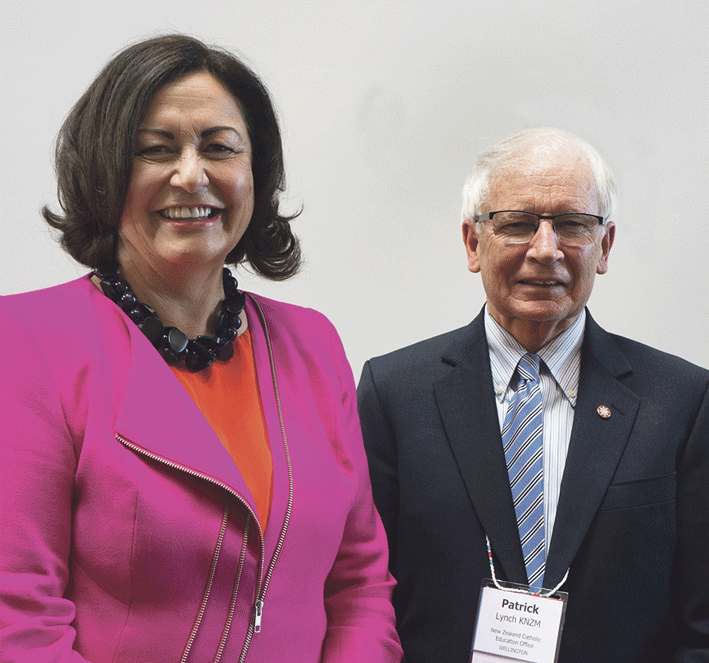 July 2015
Feature
Annette Scullion
More than 800 teachers and other professionals involved in New Zealand Catholic education came together from all over the country for their triennial convention, called Horizons of Hope, held in Wellington, 10–12 June.
Cardinal John Dew and all New Zealand's bishops, along with teachers, principals, staff, Boards of Trustees, priests, advisers, adult educators and academics met to hear from national and international presenters and exchange ideas at more than 60 seminars.
Keynote speakers included Education Minister, the Hon Hekia Parata, Professor Therese D'Orsa from the University of New Castle Australia, Dr Gemma Simmonds CJ from the University of London's Heythrop College, and Sir Br Patrick Lynch QSO KNZM, Chief Executive NZ Catholic Education Office.
Sir Br Pat said, 'It was a stimulating and inspirational opportunity for 800 educators closely associated with religious teaching and governing our schools to learn from one another. It has been energising and inspiring to take people away from their normal place of work and get together. It helps people realise they are part of a vibrant community much bigger than themselves, which in turn helps to meet challenges thrown at us every day.
'A significant number of priests came this year as did a large number of board trustees who play a pivotal role in our Catholic education community. This has been very encouraging from the Bishops' point of view and certainly for our Catholic Education Office. This level of support hasn't always happened in the past but it has to in the future.'
Minister Parata said she was passionate about education and a 'fan' of faith-based schools.
She recognised Catholic schools' excellence in governance, leadership, teaching and engaging with an increasingly diverse community.
She congratulated Sir Patrick for leading the charge.
'Ethnic diversity is becoming more and more common in New Zealand Catholic schools, and in New Zealand society as a whole. A challenge for all schools is to know how to relate to cultural and learning differences but retain our values of fairness, resilience and persistance, as well as education.'
The convention acknowledged the 40-year milestone since Catholic schools were integrated into the state school system, and the significance or four Catholic educational leaders receiving Queen's honours this year.
Sir Br Patrick Lynch received a knighthood for his services to education in the New Year's Honours 2015. Acknowledged in the Queens' Birthday Honours List were three Catholic School principals, honoured as members of the New Zealand Order of Merit for their services to education: Elizabeth Horgan of St Joseph's School, Otahuhu; Anne Miles of McAuley High School, Otahuhu; and Paul Daley, recently retired principal of Sancta Maria College, Botany.
Sir Br Pat said, 'Today we have 66,000 students in our 238 schools and an increasing number of adults in tertiary-learning programmes.
'Add to that 40 years of integration with the State and three people receiving honours for their contribution to education. We have much to be grateful for.'
See www.nzceo.catholic.org.nz/pages/events/events_convention.html for presentations.