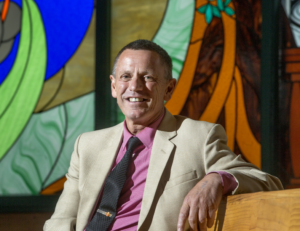 WelCom December 2022
The agreement to begin more transparent financial pooling schemes for Catholic schools in Aotearoa New Zealand and major improvements to school property have been highlights of 2022, says Dr Kevin Shore, Chief Executive of the New Zealand Catholic Education Office.
The national property pooling schemes have been under review for about five years and a new common good attendance dues scheme, Te Puna Waihanga, has been agreed to, says Kevin.
'This provides proprietors with a stronger involvement in the process and a higher level of transparency over decisions made.'
Also significant, says Kevin, is the development of an emergency fund to support a school community which suffers a catastrophic failure of a building or some other immediate threat to the health and safety of the community.
'This fund, which all participating proprietors will contribute to, will be built to a cap of $20M and should be a significant support to schools and proprietors who find themselves in difficult circumstances.'
In 2021 the government made a decision to fund the acceleration of property maintenance work in state integrated schools through the Essential Property Maintenance Programme (EPMP). $52M was made available through this fund for property improvements.
"Catholic schools have benefitted to the tune of $38M and significant progress has been made in 2022 in allocating these funds to school projects that are making a meaningful improvement to our Catholic schools,' says Kevin. 'It has been pleasing to see so much property work being undertaken that benefits the students and teachers in our schools.
Reflecting on the year, Kevin Shore said there had been plenty of challenges for his staff in the current environment.
'Staff at NZCEO in Wellington spent almost three months at the start of the year working from home because of the parliamentary protests and then the immediate closure of our office building due to concerns over a seismic assessment. Add this to the pandemic and there was a strong feeling amongst staff that a plague of locusts was imminent! '
Kevin said he was very grateful to Te Kupenga and the Sisters of Mercy who offered them a permanent home within the Mercy Centre in Thorndon.
On the issue of school attendance which has received a lot of media coverage, Kevin said that Catholic schools have traditionally had higher attendance rates than state schools and he believed this is still the case.
'While some of our Catholic schools have been affected by student absence, particularly since the start of the pandemic, many of our Catholic schools continue to have strong support from their communities resulting in high attendance rates. For those schools which have been affected by increasing rates of student non-attendance, the solutions are not always easy to find.
'I acknowledge that there are a number of societal and whānau factors that impact on the capability, opportunity and motivation for students to engage in school and any solutions rely on strategies to strengthen community connections and buy in to the value of education.'
In November, NZCEO announced its 2023 Leadership in Catholic Education Scholarship Award Programme, for fees for graduate and postgraduate study of Catholic Leadership, Religious Education and/or Theology. Visit nzceo.org.nz for information.