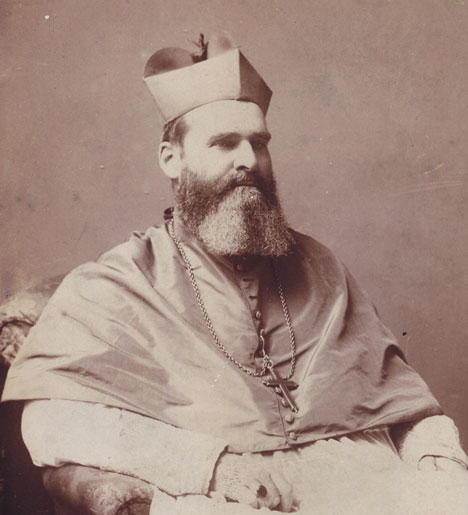 Church History
December 2013
Msgr John Broadbent
Francis Redwood was among the first boys to board at Fr Antoine Marie Garin's new school which opened in Nelson in 1852, a decade after the large Redwood family had emigrated from England to a farm near Brightwater on the Waimea Plains.
Bishop Viard and the Marists had taken over the vast diocese of Wellington and the school, which gained the support of the Nelson Provincial Government for its establishment, was of a very high standard. Nelson College itself began four years later.
Francis evinced an early desire to become a priest, so when Fr Comte sm visited Nelson with a day or two to spend before catching the boat to France, Fr Garin decided to send Francis to Europe to study for the priesthood.
Francis went home to Brightwater to pack and say goodbye to his parents and we get a brief insight into life in colonial New Zealand – Francis' mother packed his clothes and books but his father had gone into Nelson to sell cattle so he met his father at Tahunanui outside Nelson while the latter was returning home on horseback. This brief hour would be the last they would spend together – his father died before Francis returned to New Zealand 20 years later.
In 1855 Francis sailed to Europe to attend St Mary's College at St Chamond and the Marist fathers' scholasticate at Montbel and then to St Foy for his novitiate. He finished his studies in Ireland where the Marists had just opened a house for young Irishmen who wished to become Marist missionaries especially to the Pacific.
With the huge influx of immigrants to New Zealand from the 1850s, the New Zealand church was no longer predominantly for the Māori but was becoming more colonial, ministering to a large number of mainly English speaking Europeans.
This period with Redwood teaching Latin and Greek at Dundalk and gaining high honours in his Bachelor's degree, gave him familiarity and friendship with those early Irish Marists who later served in New Zealand when he was their bishop.
Redwood met Viard in Rome in 1870 during the first Vatican Council when Viard asked him to be his coadjutor. Viard died in 1872 after returning to New Zealand and no one was surprised when Rome nominated Redwood as Viard's successor as Bishop of Wellington.
He was consecrated in London by the then Archbishop Manning on St Patrick's Day 1874. Before returning to New Zealand, he appealed for funds in France and personnel in Ireland. Within a year of his arrival home, he had visited most of his parishes, some very scattered because, despite Otago being made a separate diocese in 1869, he still had all territories from Taupo to Otago to care for and his visitation lasted for many years after his consecration. Because of the lack of railways and good roads to these outback Catholic communities, he covered the vast area mainly on horseback.
The Marist records say: "He began to preach missions as part of his visitation… He moved the diocese from isolated stations with Mission rectors into the cohesion of formal parishes."
Competing with Moran
He was not on the best of terms with the Irish Bishop Moran of Dunedin, the founder and editor of The Tablet, who had hoped to become New Zealand's first archbishop, given that Dunedin was the largest centre of commerce and a very rich city. The Irish lobby was also very powerful in Rome. When Redwood was appointed archbishop in 1887, Moran refused to attend the ceremony.
The consolidation of Catholic schools, presbyteries and convents prospered greatly under Redwood and, in 1913, he was given a fellow Marist, Francis O'Shea, as coadjutor archbishop.
Redwood did his best to restore the Māori missions after the Land Wars of the 1860s. He began a new Marist mission thrust with the arrival of five new French Marists in the 1880s and by placing Mother Mary Aubert in Jerusalem in 1883. She and her followers founded the Sisters of Compassion there, moving to Buckle Street and Island Bay in the 1890s.
Redwood kept control of his vast archdiocese even when O'Shea became his coadjutor. Westland and Canterbury were cut off in 1887 with Christchurch as the Episcopal See.
Redwood's control was a benign one and he lived a simple life. He was a magnificent orator and played his violin daily. In old age he developed the habit of spending a couple of the winter months in Queensland for the warmth.
He celebrated his diamond jubilee in 1934, a year before his death. At 34, he had been the church's youngest ruling bishop. At his death 60 years later in 1935, he was 94, possibly the oldest.
May his generous soul sleep in peace.