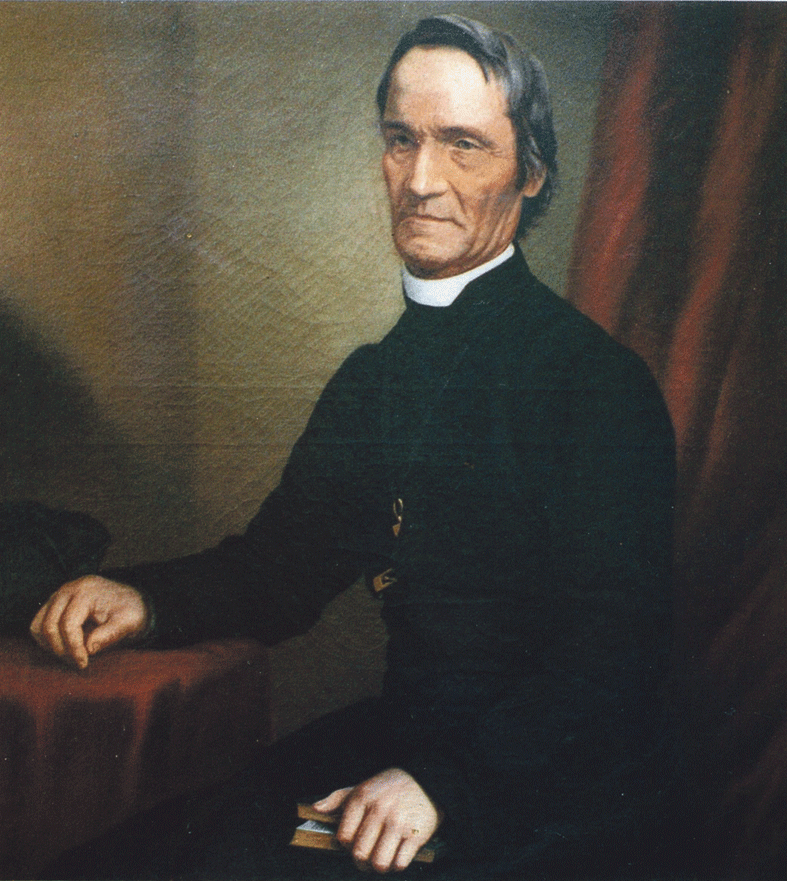 Church History
Mgr John Broadbent
Antoine Garin was born in St Rambert-en-Bugey in France on 23 July 1810.
He was ordained a priest for his local diocese of Belley in 1834 and for three years worked in the parish of Chalamoant.
After experiencing the call to overseas missions, he joined the Society of Mary in 1837.
Assigned to New Zealand
On making his profession in 1840, he was assigned to New Zealand where he arrived with 10 other Marists on the 'Mary Grey' at the Bay of Islands in 1841. These missionaries were to join Bishop Pompallier at Kororareka (Russell).
Garin's appointment as provincial of the Marists in New Zealand from 1841 to 1843 and, despite Pompallier's growing antagonism to the society, his episcopal nomination several times to Rome show early recognition of his abilities.
In 1843, Garin was sent to the Kaipara mission station at Mangakahia, and four years later to the pensioner soldier settlements at Howick, Panmure and Otahuhu where more than half the families were Irish Catholics.
In 1850 after quarrels between Pompallier and the Marists, Garin accompanied Bishop Viard to Wellington. He was assigned to Nelson as parish priest in charge of 200 to 300 Catholics scattered around Nelson, Buller, Marlborough and the northern part of the region that became Westland.
He journeyed constantly on foot and on horseback to visit his people, often inflicting great privations on his not over-robust constitution. In 1853, suffering from exposure in Marlborough, he caught a severe chill which left him prone to rheumatism, sciatica and similar ailments.
A blow to his health
In 1863 in the heat of a particularly hot summer, Garin's diary records that he stopped at the base of the steep Takaka Hill to eat and met a Māori going the other way and complaining of the heat. Knowing the man would soon reach the Takaka River, Garin did not at first share his small bottle of water mixed with brandy.
But when the man continued to complain about his thirst, Garin gave him the bottle. He gratefully drank half after which Garin finished the bottle, leaving nothing for the long ride over the hill (the man did give Garin two apples in return). Unfortunately, thirst overcame him and he drank the only water he could find from a horse's hoof print.
On the other side of the hill he rested for half an hour at a friend's place. Still feeling sick, he stayed at a public house and the next day contracted dysentery.
He was then forced to spend four months recuperating in the home of Archbishop Redwood's family.
After this episode, Garin stayed in Nelson but did not stop working. He helped build a bigger church in Nelson, 1857. He also built churches in Waimea, 1853, Takaka, 1867 and Wakefield, 1869, the last two with donations from West Coast gold-diggers.
Education agenda
Garin gained national attention with his exceptional contribution to education. From meagre resources he added a separate boys' school to the existing co-ed school. Miss O'Dowd ran the girls' school. When his first assistant Fr Moreau arrived in 1851, Garin opened a boys' boarding high school which offered French, Latin, and algebra. The school started with 25 boarders, more than half non-Catholic, paying £24 a year each.
The Nelson Examiner expressed surprise in 1852 that the poor and unendowed Church of Rome, weak in numbers, should be able to maintain a high school of such repute when there was nothing comparable in the area.
In 1856 the Nelson Provincial Government consulted Garin regarding the education system being formulated. However, he could not accept the 1856 Education Act's stipulation that religious education was to be free from all controversy and taught only when parents who objected could remove their children from the schools.
Garin believed religious instruction to be an integral part of Catholic education and, as a result, his schools received no aid from the Nelson Education Board.
They continued to flourish, the primary schools attracted many non-Catholics.
Garin campaigned vigorously for equality and, in 1867, he won the support of the Nelson provincial superintendent, Oswald Curtis; the Education Act was amended making it legal for the Bible to be read in class as the last part of the ordinary school course of instruction and for classrooms to be used for religious instruction after school hours. Garin accepted these conditions and won provincial government aid for his schools.
In 1871 the girls' school was handed over to the Sisters of Our Lady of the Missions.
Garin founded orphanages in 1872, running them successfully using funding from charity and a government grant of one shilling a day per child. He also showed great faith in adult education by founding a library – a list of its 500 volumes, recorded in meticulous handwriting, still exists. With the Education Act 1877, Garin again had to remove his schools from the state system and render them self-supporting.
Man of character
Perhaps Garin's success in one of the least Catholic areas of the country was due to his character. Augustin Sauzeau, a Marist contemporary, wrote that 'Garin was highly adapted for success in an English mission, being tall, reserved, quiet in his manner, a little cold and austere on first acquaintance. Once you knew him, he was always a pleasant companion.'
Gottfried Lindauer's 1875 portrait of Garin in Nelson's Bishop Suter Gallery shows an honest, weather-beaten face with a high, intellectual brow, sharp nose, determined chin and eyes that reflect serenity and wisdom tempered with a certain measure of shrewdness.
Garin's last years were a mix of suffering and celebration. He refused to visit France so that younger missionaries could see a veteran dying on the battlefield. He suffered much from bronchitis and, in 1881, seeing his beloved church burnt down (he rebuilt it).
On 19 October 1884 Garin celebrated his golden jubilee of priesthood attended by the three Catholic bishops of New Zealand. They were led by a former pupil of Garin's Nelson boarding school, Francis Redwood of Wellington.
Redwood named him venerable archpriest of Nelson saying there was not a remote corner of the colony in which there were not pupils of Fr Garin's school. The tributes paid to him came from all sectors of the community.
Following his death on 14 April 1889 Fr Garin was buried in a temporary grave in Nelson's Wakapuaka cemetery; the whole district wanted to build a memorial chapel over his remains. The body was disinterred 18 months later and found to be completely intact, though the vestments had rotted.
It is now buried under heavy concrete in the chapel's crypt.