WelCom April 2020: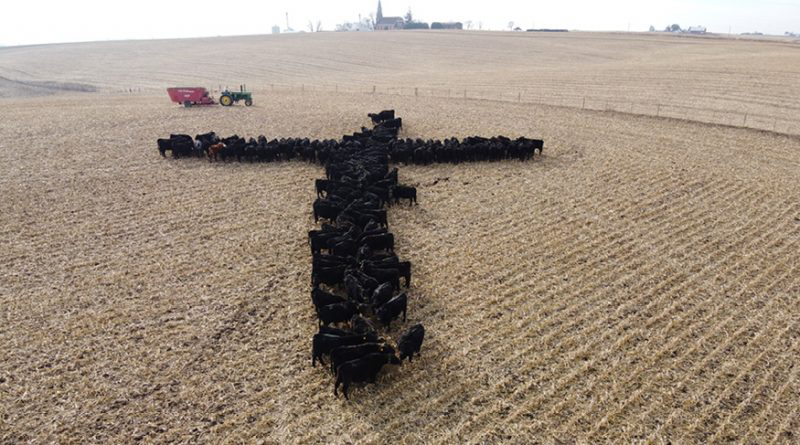 The scene that unfolded on Dan and Judy Gotto's farm in Bankston, Iowa, shortly before Christmas last year became a beautiful testament to faith. On December 23, 2019, members of the family had carefully laid out many small piles of cattle feed in the shape of a giant cross on one of their fields, attracting 171 hungry cows into a planned position. In the distance, the steeple of St Clement Church in Bankston reached upward toward a clear sky.
At the right moment, Fr Michael Schueller, pastor of the area, sprang into action. Fr Schueller flies drones in his spare time and enjoys taking aerial photographs. He flew his camera-equipped drone high above the herd, capturing both still shots and video and posted the image on his Facebook page.
Almost immediately, the image went viral. There were dozens of comments, hundreds of shares, thousands of views and the image featured in the area's biggest daily newspaper, which ran the story with the headline: 'Holy cow: Bankston cattle photo going viral ahead of Christmas'.
Fr Schueller believes the photo went viral for two reasons. 'I think it is the faith aspect,' he said. 'There is a yearning when you see a symbol like that. I also think people like cows.'
Chad Gotto's son Dan, also a farmer, said that people can make faith part of their daily lives, even if they are engaged in something as simple as feeding cows. 'I just wanted to tell everyone to involve Christ in everything you do,' he said.