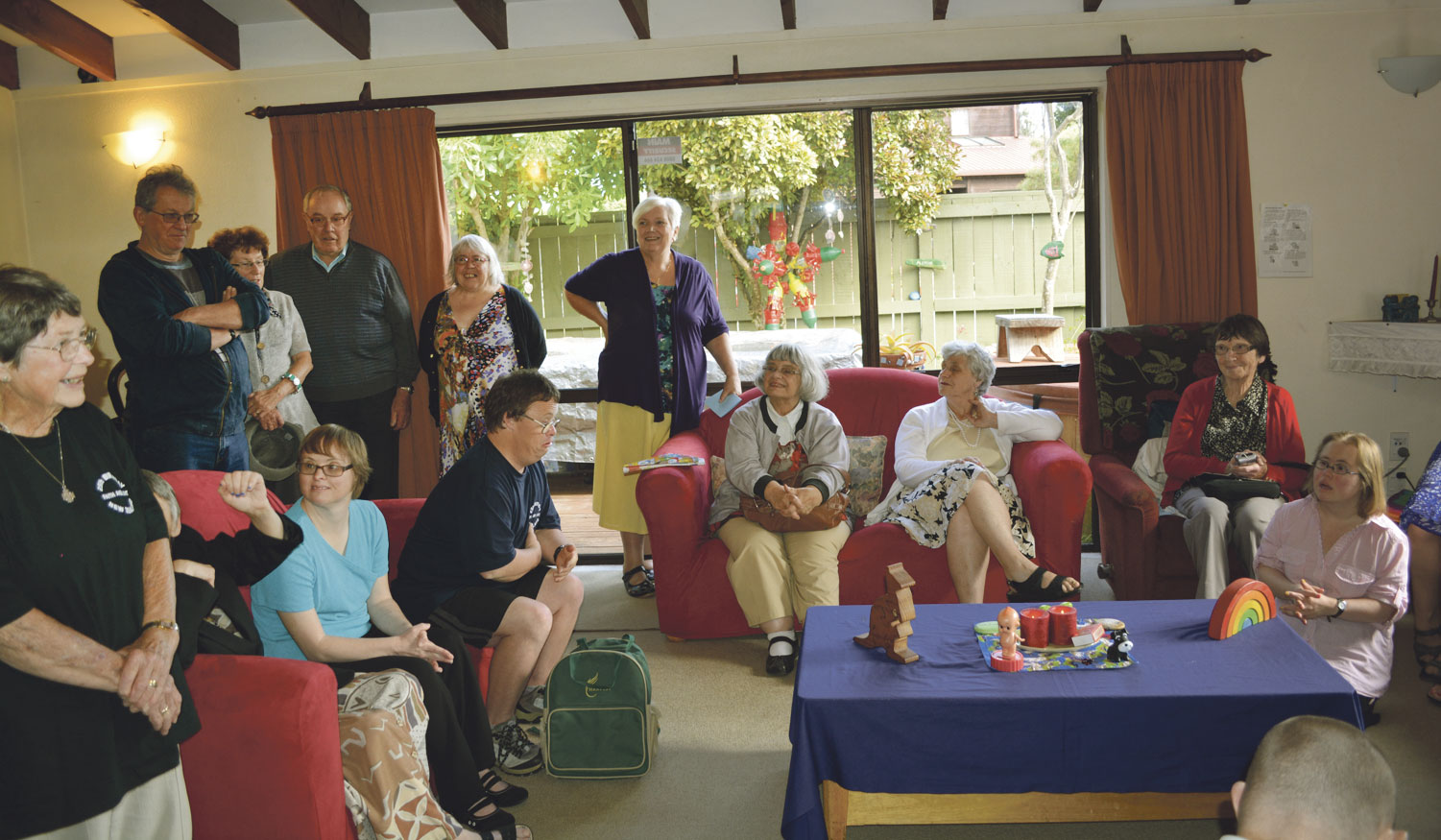 News

April 2014
Mary Woods, Judith McGinley, Roderick Milne SM
On Saturday 15 February in Paraparaumu L'Arche Kapiti celebrated its 16th birthday and 50 years since Jean Vanier started the first L'Arche community with Phillipe and Raphael in Trosly-Breuil, France.
Family and friends joined the community from all around the lower North Island with representatives from 'sister' communities – Mt Tabor in Auckland and Christchurch's Marralomeda as well as Faith and Light members. L'Arche Kapiti is the only L'Arche community in Aotearoa New Zealand.
The action-packed day started with a pilgrimage from the houses, through the office, to the party venue where two core members, Stephen and Emmet and their friend, Sam from Waitara, welcomed the pilgrims and guests with a haka to start the day-long celebration.
People reconnected over a cup of tea with shrieks of recognition, hugs and remembering.
The MCs for the formal programme, Michael and Maria Noonan, used their international experience to talk about the development of L'Arche. Others told of their own involvement in L'Arche Kapiti and we all prayed and sang with them.
People enjoyed seeing and laughing together over old photos and posing for new ones. And, in true L'Arche fashion, a sit down meal was a focus point.
More than 170 people joined the party at some stage throughout the day. Many came from the St Patrick's parish Paraparaumu where members of the local L'Arche community participate every Sunday. But there was also strong support from the wider community and as one person said, 'Everyone is happy to be here'.
The heart of a L'Arche community are the core members. They are people whose disabilities are intellectual and so they need help to live their daily lives.
Living with them are the assistants. They are people who commit themselves to share life in community and who help core members with their day-to-day needs. The assistants are often young energetic men and women who are taking a break from their studies or career to get a different view of the meaning of life.
The current group come from the Philippines, France, Germany and England. L'Arche Kapiti currently has eight core members living in two separate houses. The six assistants and wide group of volunteers all help to create a loving caring community that encourages their participation.
A key person in the formation of the Kapiti group was Fr Roderick Milne SM. Some people at the celebration referred to being 'Rodericked' into helping.
Fr Rod and the Sisters of Compassion were and continue to be strong supporters of the local group. People remembered with sadness the friendship, love and faithful service given to L'Arche by Sister Margaret Mary Murphy DOLC, who died recently.
Reflecting on his own experience as an assistant in L'Arche in Canada, Fr Rod talked about the vulnerability and transformation that occurs when living in such a community.
At first I was confronted by and needed to accept the disabilities of the core members. But then I was confronted with the disabilities of the other assistants and my own – none of us is perfect! You learn how to work with them. Later, as I began to accept the disabilities, the core members demonstrated their gifts, which shone through the cracks, and helped me to recognise those of the other assistants and my own.
Growing can be a painful business. But people in a L'Arche community do grow spiritually and personally.
L'Arche Kapiti is part of a network of L'Arche communities round the world. It also needs increasing support from people in Aotearoa New Zealand. Congratulations L'Arche Kapiti on your journey so far and your promise ahead.