Features
Keith Banks
4 December 2012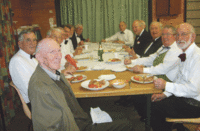 Sr Makareta Gilbert sm held the 83 people breakfasting on the Kapiti Coast entranced on October 13 with her talk on 'Loving the Lord, living like Jesus and listening to the Holy Spirit'.
The annual breakfast was for women in Waikanae and Paraparaumu parishes and their guests from Plimmerton and Lower Hutt parishes to thank them for supporting their men who have been breakfasting together regularly for a number of years, as well as holding retreats with men from outside the pastoral area.
Sr Makareta shared her spiritual wisdom and sincerity, and her speech notes were in great demand.
For this special women's breakfast, the men dress up, set the tables, arrange a musical sing-along, cook the breakfast and wait on tables, clearing and cleaning up afterwards.
The sing-along which precedes the breakfast is followed by a candle-lighting ceremony, and this year's programme gave the women a half hour to mix and mingle, and time for Fr Michael McCabe of St Patrick's, Paraparaumu to say a few words and light a candle before the breakfast.
Both the men's and women's breakfasts give the opportunity to explore issues that arise during their faith journey, deepen their faith and encourage them to become more active in pastoral area activities
Images, by Margaret Bergman: Top, When all is said and done, the crew get a chance to have some breakfast also.
Middle: Guest speaker Sr Makareta Gilbert sm.
Bottom: The women in full sing-along in anticipation of a great morning.