Palmerston North
Shirley Knuckey
2 October 2012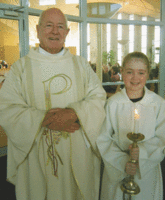 The Feast of Ss Peter and Paul marked a special celebration at New Plymouth's St Joseph's Church, as parishioners, family and friends joined Fr Fergus Reeves to celebrate his golden jubilee of ordination to the priesthood. Fifty years ago Fr Fergus was ordained for the Archdiocese of Wellington on the same feast day, June 29, in the same parish.
When he retired, Fr Fergus returned to his home town, by then in the Diocese of Palmerston North. For the past 14 years he has responded unstintingly to requests to supply sacramental ministry in the North Taranaki Pastoral Area. His availability has eased pressure on the sacramental schedule and his readiness to be a sounding board to colleagues has been a largely unseen blessing on the Body of Christ in our area.
Family members, former colleagues and friends came from near and far to join local priests, schools and parishioners in singing 'Here I Am, Lord' as Fr Fergus presided over the midday Mass. In his homily, Fr Fergus expressed his gratitude to God who called him and to his family and the many people who have journeyed with him over these 50 years.
Dr John Conaglen paid tribute to a life-long friendship which started when he was a medical registrar and Fr Fergus, hospital chaplain.
Fr Tom Lawn expressed gratitude for the gifts and wisdom Fr Fergus had shared with pastoral staff in the North Taranaki Pastoral Area. The congregation sang a blessing for him.
His requested favourite hymn, 'Lord Jesus, of You, I will sing as I Journey' ended the liturgy and the celebrations continued as Fr Fergus hosted lunch in the parish hall.
An impressive cake was cut, happy memories exchanged and prayers and hopes expressed that Fr Fergus would continue to celebrate his priestly ministry in whatever pathways God has for him.
His sacramental and liturgical service, his homilies, his vocal finesse, collegial wisdom, friendly presence and sense of humour will always be appreciated in our northern parishes.