WelCom August 2020
Michael Fitzsimons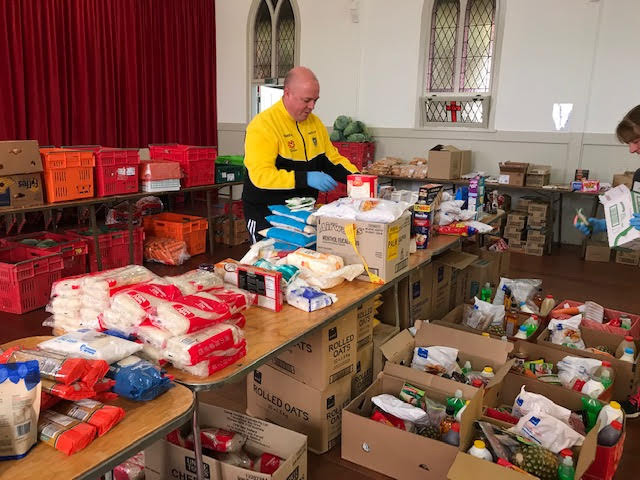 Challenge 2000 is a professional and passionate Youth Development, Community and Family Social Work Agency, based in Johnsonville, Wellington.
Challenge 2000's new director says he sees the role as being like the conductor of an orchestra.
I often feel that is what the job is all about, says Damian Dempsey. His 'orchestra' numbers about 40 permanent staff and a supporting team of about 500 volunteers.
'I have a really good leadership team around me and my job is to empower them to do the amazing things they can do, and stay out of their way when that's required. They in turn empower their staff and then there's this large, generous network of people who contribute their time, talents, and financial assistance.'
Damian Dempsey was appointed director of Challenge 2000 in March. He was a member of the Society of Mary for 25 years, working in formation, education and community development in New Zealand and in Asia.
'Working at Challenge allows me to live out every day the values I hold dear and be a part of a very diverse family of dedicated people who all want to help those who are trying to find their way in life.
'As a Marist my dream had been to give practical witness to the Gospel. I was often called to do it in a non-Christian environment, where the Gospel wasn't known or perhaps valued. For example, I was assigned to Ranong in southern Thailand, running healthcare and education projects in a predominantly Buddhist environment. Being at Challenge I feel I am giving practical witness to those Marist values and Gospel values in an authentic way.'
Challenge's team is made up of youth, community and social workers. About half of its funding comes from government agencies – Oranga Tamariki, Ministry of Education and ACC. A significant amount of assistance is provided by friends, supporters and benefactors.
Challenge provides a wide range of services and programmes for children, young people, families and community groups. It works in the youth justice area and runs a holistic alternative-education programme for young people who are struggling.
'We also offer youth ministry services for parishes and schools, and run a Gap programme for eight interns each year,' says Damian. 'We are one of two Wellington-based providers running a healthy-relationships programme in schools, funded by ACC, which has been very well received.
'There's a lot going on at Challenge. We have a staff of 40 but we do more than that number would suggest. A lot of people are working across three or four areas.'
Challenge 2000 is all about helping people to grow into their best selves, says Damian.
'Our approach is a strengths-based approach. Young people often come to us because they are considered to be problematic or they are struggling in some way. We welcome them with open arms, a smile, and with warmth. We treat them with dignity and aroha and we find out who they are, what they are interested in, what they are good at, and we build on that. We create a really affirming relationship with them so people who come into the Challenge whānau feel part of a group of people who make them feel good about themselves. Young people flourish in that environment.'
A few months in and Damian is really enjoying the new role. Covid-19 lockdown was the immediate issue he had to deal with.
'Going into lockdown was frantic. We were designated an essential service so we had to keep things operating. I was running on adrenaline. Staff were amazing. Then we settled into lockdown and did some amazing work – I think many young people and families really appreciated the support we were able to provide.'
Damian grew up in the Hutt Valley and is enjoying being back in Wellington after many years away. He and partner Joy have two young children.
'Challenge is a very family-friendly place. The job involves some long hours but there is a flexibility at Challenge, which allows me to have a good family life.'
Looking ahead Damian is conscious of the need to keep growing the organisation while keeping it faithful to its founding values.
'We talk about the Challenge charism, which has been developed over its 32-year history. That's a gift that has been given us through Kitty [McKinley, founder]. I see it as a big part of my role to help a new generation take on the Challenge charism and express it anew – living out the Challenge charism, values and mission in new ways.'