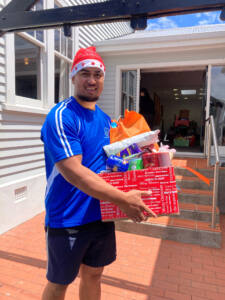 WelCom February 2023
Wellington youth agency Challenge 2000 was kept busy in the lead up to Christmas, delivering more than 200 Christmas hamper packages to help families in need through the holiday period.
'The agency's foodbank programme expanded during the Covid-19 pandemic as the number of families struggling to make ends meet grew as the cost of living also ballooned,' says Challenge 2000 founder Kitty McKinley.
Kitty estimates the 'whānau-based' charity provides about 700 food parcels a year but regularly helps people in the community for emergency needs such as transportation and bills.
Challenge staff and volunteers, as well as young people supported by the agency's development programme, spent a month before Christmas collecting donations, wrapping presents and delivering them to families it supported.
Donations for the Christmas packages were made by people in the community and collected from schools the agency had social workers working in.
Junior Seumanufagai, a youth worker from Porirua delivered 19 packages to families one morning in the week leading up to Christmas. 'Many of those families regularly receive food parcels,' he said.
Junior has been involved in delivering food and Christmas hampers to families over the past eight years. 'Delivering Christmas hampers is a privilege for me. The children run out to us and they are so happy. They have so much joy in whatever they receive. This in turn, makes me so happy as I know without support, some of these families wouldn't have had a proper meal on their table over Christmas or the children wouldn't get presents of any sort.
'Growing up and now as a youth worker I try and live my life based on a Samoan proverb, which goes: "O le Ala i le Pule, O le Tautua", which means "The path to leadership is Service". '
If you'd like to support Challenge by working or volunteering, serving, donating or need support in any way contact Challenge on (04) 477-6827 or visit their website at: challenge2000.org.nz
Challenge 2000 and the Society of Mary are inviting applicants for their 2023 'Gap Year' internship programmes for young people. The first project runs from 13 February to 9 July and the second from 2 August to 15 December. Go to: challenge2000.org.nz/youth/gap-year/ for more information.