WelCom November 2021
The Bank of Chicago Marathon is known for the thousands of people who line the route and cheer on the runners as they pass through the city's 29 neighbourhoods.
This year's race, on Sunday October 10, was no different, especially with the addition of dozens of Franciscan women and men religious and laypeople awaiting runners at an intersection on the West Side. Among them was Chicago Auxiliary Bishop Robert J Lombardo, a Franciscan Friar of the Renewal, who blessed runners as they passed by.
The group was there to cheer on members of Team OLA, which raises money to support the Mission of Our Lady of the Angels in West Humboldt Park and its outreach to the poor.
Sr Baliga, who is in charge of Team OLA, said the team, which runs both the Chicago Marathon and the Shamrock Shuffle, is the mission's only fundraiser each year. It is on track to meet its goal of raising US$250,000, she said.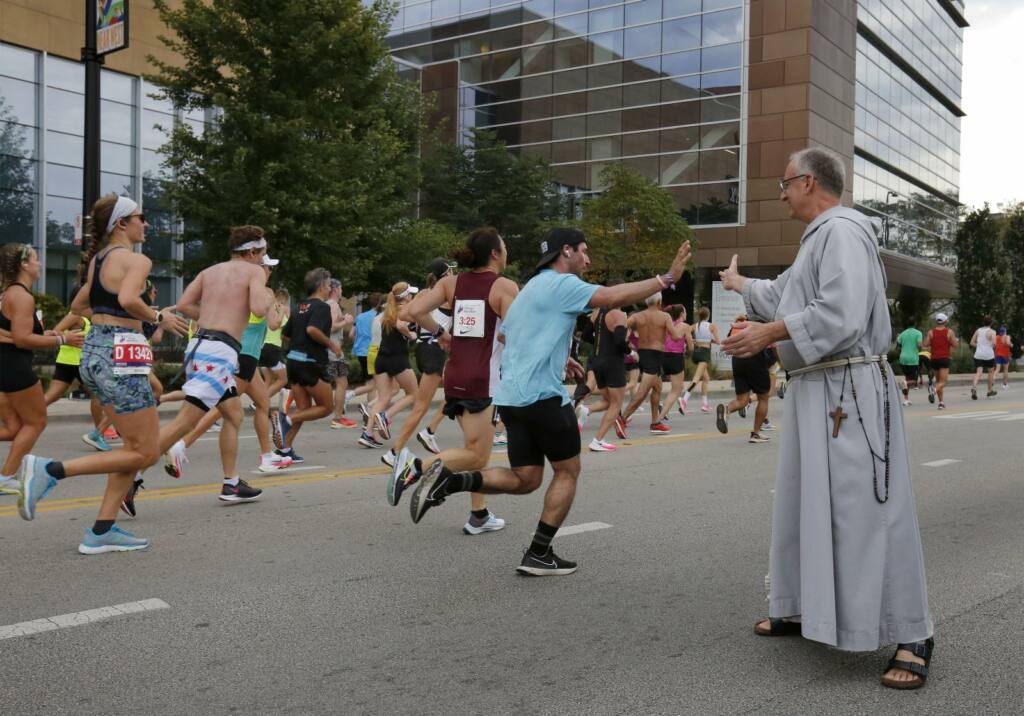 Sr Baliga was a track star at the University of Illinois at Champaign-Urbana and regularly runs marathons. Last year, after the Chicago Marathon was cancelled, she took her run to the treadmill and raised over US$190,000 for the mission and set a world record for the fastest time for a woman to run a marathon on a treadmill.
Team OLA is more than just a way to raise much-needed funds for the mission, Sr Baliga said.
'It's both a fundraiser and an evangelisation opportunity, which is a great thing,' she said. 'I think if it's at all possible to make fundraisers evangelisation opportunities it's the best way to do this, because then you can bring people into your cause and your efforts who may not be as engaged with the Church in various capacities.'
Source: Catholic News Service