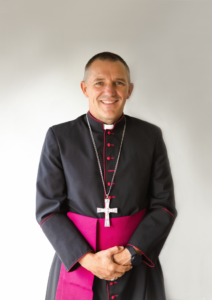 WelCom April 2023
Plans for Christchurch's new Catholic Cathedral are now under review, says Simon Thompson, the diocese general manager.
'Bishop Michael (pictured) just wants to make sure he gets it right.'
He said the new cathedral precinct would be a fantastic addition to the city, a place where people, including tourists, would be able to 'bump into Catholicism', but change – including rebuilds – takes time.
In a written statement, Bishop Gielen said: 'I have a steadfast commitment to creating thriving parishes and building a worthy cathedral within the diocese of Christchurch.
'I am conscious the cathedral is
a large financial commitment for the diocese.
'It will be a legacy of my tenure as bishop of Christchurch, and as such, I want to be as comfortable as possible with any decision on the development project, as anyone in my position would.'
Thompson said the Church was committed to the central city and is having a good hard look at the project's size, scale and financial implications.
'We have also looked at other sites as part of this process, including the Barbadoes St site,' he said.
Thompson says no decision has been made to 'can' the current plan.
'It is about certainty of investment. If you are sinking tens of millions of dollars into a project you don't want key things changing.'
The Council confirmed that the resource consent for stage one is on hold, awaiting further information from the developer.
The Catholic Bishop of Christchurch, Michael Gielen, inherited an ambitious $500m plan when he took over as bishop last May.
The plans had been negotiated between developer Philip Carter and the then Bishop of Christchurch Paul Martin sm.
They include a $40m cathedral on Colombo Street to replace the Barbadoes St Blessed Sacrament Basilica, which was destroyed by the February 22, 2011 earthquake.
At the time, resource consent was expected to be lodged within a few months. It was predicted the cathedral might be completed by 2025.
Two months later, Bishop Gielen was appointed, and he has now paused the project.
No resource consent application has been lodged.
Thompson said there is no date on a cathedral decision and that it remained at the pleasure of the bishop.
Source: Star News; Stuff