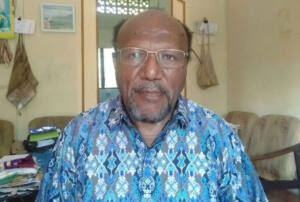 WelCom May 2023
In a rare gesture, Catholic and Protestant leaders in Papua have come together to appeal to Indonesian President Joko Widodo to stop military operations in the crisis-hit province following the latest move to implement a 'combat alert operation'.
'We don't want any civilian casualties,' Jayapura Catholic Bishop Yanuarius Teofilus Matopai You said.
'Therefore, we respectfully ask the President of the Republic of Indonesia to withdraw troops and take steps for negotiations and a humanitarian approach,' Bishop You said at a press conference on 26 April, along with other Christian leaders.
This is the first time the Catholic Church has joined hands with Protestant leaders against the military build-up in Papua, which has intensified in recent months.
Bishop You, 72, who was installed bishop in February, was accompanied by senior faith leaders from the Evangelical Church in Indonesia, the Communion of Baptist Churches of West Papua, the Kingmi Synod in the Land of Papua, the Synod of the Indonesian Christian Church in the Land of Papua and the Papua Church Council.
Their call came in response to the military's move last month to beef up combat operations in the region following the killings of five soldiers by the West Papua National Liberation Army, which the Indonesian government has labelled as an armed criminal group.
The soldiers were killed during the efforts to free New Zealand pilot Phillip Mehrtens, who has been held hostage since February this year.
A former Dutch colony, Papua declared itself independent in 1961, but neighbouring Indonesia took control two years later, promising to have an independence referendum. The subsequent voting in favour of staying as part of Indonesia was widely considered a sham.
According to data from the advocacy group Imparsial, the number of soldiers in Papua is currently at 16,900, most of them with combat qualifications.
Source: UCA News