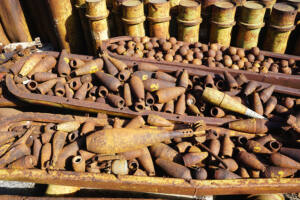 WelCom August 2023
US Bishops' International Justice and Peace Chairman, Bishop David Malloy, has expressed public concern regarding President Joe Biden's decision to supply Ukraine with cluster bombs for use against Russian forces.
In a statement issued by the Peace Committee, Bishop Malloy highlighted the fact that numerous countries, including the Holy See, have ratified the International Convention on Cluster Munitions. This convention explicitly prohibits using, producing, transferring and stockpiling these armaments.
'More than 100 countries, including the Holy See, have signed the 2010 Convention on Cluster Munitions, which bans their use due to their indiscriminate nature and the risks they pose to civilian populations long after the cessation of hostilities,' writes Malloy.
He also noted that the United States and Russia have not signed the agreement, highlighting the urgent need for participation.
Bishop Malloy and his predecessors have consistently called on the US government to endorse both the Convention on Cluster Munitions and the Mine Ban Treaty.
In July the Defence Department made an announcement regarding the provision of 'additional security assistance' to address Ukraine's critical security and defence requirements. The assistance includes the shipment of cluster bombs which are designed to explode above a target and release smaller submunitions that can cause substantial damage to personnel and military equipment.
Critics argue these bombs pose significant risks to civilian populations due to their wide coverage area. Additionally, there is concern about the potential for unexploded ordnance remaining on battlefields, posing ongoing threats to civilians long after conflicts have ended.
Sources: US Catholic Bishops Conference, CNA