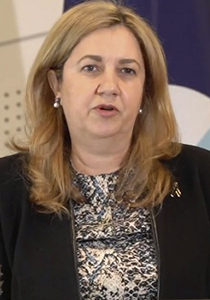 WelCom October 2022
Church land in Queensland could be used to help tackle the state's housing crisis, according to Premier Annastacia Palaszczuk.
Brisbane Archdiocese was among stakeholders at a high-level housing roundtable meeting that is a step towards a state Housing Summit to be held on October 20. After hosting the talks, Ms Palaszczuk thanked the Catholic Church as among businesses, organisations and church groups that could make property or land available to help tackle Queensland's housing crisis.
She said the Church had identified blocks of land across the state and would work with the Government 'with the view to putting some accommodation on those blocks of land'.
Brisbane Archbishop Mark Coleridge said the archdiocese was well placed for discussions with all levels of government through its outreach across southeast Queensland.
'We recognise the importance of a home in everyone's life and we understand the pressure on vulnerable individuals and families seeking housing assistance and support. The solution will involve expertise from across the board and we're happy to play whatever role we can to assist.
'We are embedded in communities through our parishes, our schools and our services which give us reach into areas of need and an opportunity to respond in practical ways.'
Archbishop Coleridge said that response would include the archdiocese assessing any property or community networks that could provide opportunity for housing.
'We will certainly look at the contribution we can make through use of land or properties that can support social justice outcomes and further our mission,' Archbishop Coleridge said.
Source: CathNews Australia, The Catholic Leader.