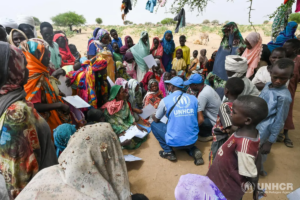 WelCom June/July 2023
Sudan is in the front line again as the country is engulfed in war. Church leaders are among those calling for peace as desperate people try to survive the latest catastrophe.
A health ministry report issued in May said the conflict had already claimed at least 528 people and wounded 4,599 people. According to the report, there's no running water in the capital, Khartoum. The same applies to other big cities. Vital infrastructure is shattered. There's no electricity. Food and water are in short supply.
While churches and church property have been destroyed, this is not an ideological or religious conflict, The Tablet reports.
'All citizens from Muslim and minority Christian communities are equally affected. Lay people, priests and religious are unable to leave their houses. Masses in churches have been stopped, although communal prayers continue in some houses.'
Since 15 April this year, fighting between Sudanese Army Forces and the paramilitary Rapid Support Forces has gripped the country. As fighting intensifies, people are either hiding or joining refugees streaming from Sudan's broken, dangerous cities.
The UN says about 75,000 people have been displaced by the fighting in Khartoum and the states of Blue Nile, North Kordofan, as well as the western region of Darfur.
The people of Sudan are suffering and yearning for peace, says South Sudanese Catholic Archbishop Stephen Ameyu Martin Mula.
To preserve Sudan's unity and not further people's suffering 'we call for an end to the fighting and a return to dialogue,' Mula said in a statement from the Catholic Conference of Bishops of Sudan and South Sudan (SSSCBC).
The Church is joining 'her voice with the rest of people in seeking peace so that the two warring parties stop fighting and dialogue,' added Fr Peter Suleiman, SSSCBC Secretary General.
Sources: The Tablet, CISA