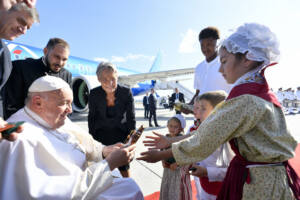 WelCom October 2023
Amid rising tensions among European leaders over how to respond to a new influx of migrants, Pope Francis arrived in the French port city of Marseille on 22 September 2023, warning that civilisation is at a crossroads. We must choose between the 'fanaticism of indifference' or solidarity with those seeking welcome on new shores, said the Pope.
'On the one hand, there is fraternity, which makes the human community flourish with goodness; on the other, indifference, which bloodies the Mediterranean,' Pope Francis said during a meeting with religious leaders outside a memorial to migrants lost at sea.
'We find ourselves at a crossroads of civilisation,' he cautioned, gazing out from the memorial over the Mediterranean, where more than 27,000 migrants have died attempting to reach Europe since 2014.
Migration has been a central issue to Francis' papacy. Despite mobility issues and a preference for avoiding travelling to major European countries, the 86-year-old Pope made a brief overnight visit to participate in a gathering of Catholic bishops and young people to discuss migration concerns.
'We cannot be resigned to seeing human beings treated as bargaining chips, imprisoned and tortured in atrocious ways,' said the Pope. 'We can no longer watch the drama of shipwrecks, caused by the cruel trafficking and the fanaticism of indifference.'
'People who are at risk of drowning when abandoned on the waves must be rescued,' Francis pleaded. 'It is a duty of humanity; it is a duty of civilisation!'
Over the last year, according to UN data, over 178,500 new arrivals have crossed the Mediterranean seeking refuge in Europe. This year alone, more than 2,500 have died at sea.
Source: Vatican News