News
Ka'isa Beech
4 February 2013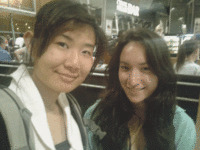 The importance of making people aware of climate change issues and the need to overcome social behaviour which can harm the environment was sheeted home to us at the Powershift youth climate summit in Auckland in December.
Powershift's organisers 350 Aotearoa and Generation Zero created a wonderful environment to be in, filled with opportunities for people to develop their knowledge, to build new connections and to create action.
The power of organising and the power of people who wanted to make a change was very inspiring and sparked in me a passion for the issues.
As Catholics we are called to be aware of what is going on in the world and to expand from just thinking about what is good for 'me' to considering what is good for 'us' and the environment. It is also our calling to be stewards of the Earth.
In New Zealand it is easy to ignore the effects of climate change because they are not as obvious, but it is important to consider our brothers and sisters in the Pacific Islands where the shore lines are receding and sea levels rising.
Tokelauan Mika Maiava's workshop about his country's lead in the Race for Renewable Energy showed the efforts people in Tokelau have made to reduce the use of fossil fuels and to move towards renewable energy. It was inspiring to see the effort and changes happening there.
As someone who works in the public transport industry, the workshop Transport and Climate Change: What Can We Do? also really got me thinking.
We take for granted using a car, as well as the amount of public money used in highways and car parks which makes it easier for people to run a car. But why isn't there more of an effort to create more reliable and accessible, environmentally friendly transport options. This workshop really taught me the importance of overcoming the current poor use of public transport.
These workshops created a wonderful place to learn and to discuss action that needs to take place.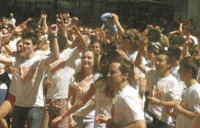 Flash mob against fossil fuels
However, the most enjoyable part of the whole weekend was participating in the flash mob made up of the 700 people who had attended Powershift. The flash mob signalled the end of the conference and also acted as the opening of the campaign to move beyond the use of fossil fuels.
All 700 of us doing a choreographed dance together in the middle of Queen Street was a simple way of showing the strength of people when they unite, which I felt was an incredible way to end the conference.
Images: Regina Sandrine and Ka'isa Beech who Caritas and the Wellington Justice and Peace Commission sponsored to attend Powershift last December.
The flash mob at the end of December's Powershift conference dancing in Auckland's Queen Street to launch a campaign to move beyond the use of fossil fuels.