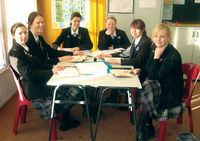 Six Year 13 students from St Mary's College completed a theology paper from Otago University last semester with flying colours. All six passed with higher than average grades.
The paper: Religion, Ethics and Law in a Secular Society, extended their knowledge into the fields of philosophy, theology, ethics, and politics and introduced them to a range of great thinkers such as Descartes, Sartre, Rousseau, Hobbes, Newbigin and O'Donovan.
The fortnightly lectures were conducted by teleconference with 150 other students, including students from other Catholic colleges around the country. The teleconferences would usually start with a lecture from the professor, followed by a tutorial discussion with students from one other school. St Mary's students Natasha Perry, Rachel Kleinsman, Catherine Bignell, Eden Gill, Hannah Quigan and Helena Hallagan were paired with students from St Kevin's in Oamaru.
One of the students, Natasha, said she was apprehensive to start with, but once the lectures began they became absorbed in the discussion.
The tutorial discussions were lively, with students given the opportunity to debate issues among themselves. These tutorials continued for about 40 minutes of the two-hour period, after which all the students listened again to input from the lecturer, Dr Murray Rae.
The students were supported in their studies with extra tuition from John Kleinsman, a staff member of the Wellington Catholic Education Centre and researcher for the Nathaniel Bioethics Centre.
Revolutionary ideas
The girls all found the study material fascinating; it embraced ideas from the 17th century scientific revolution and contrasted them with a modern worldview. The paper also examined the nature and role of Christian ethics in our society.
'It was amazing how philosophies from thinkers of the 17th and 18th centuries popped up once we had become aware of them,' the students said.
'It made you think about what we are today and analyse why we think the way we do. Some things that happened 300 years ago actually form our world view today', Rachel said.
St Mary's College have been offering the course since 1999 .
Hannah commented on how it was great to do something that 'forced you to think'. All six girls agreed that although they would probably not have considered the course if their teacher had not suggested it, 'it was a really enjoyable and educational experience worth the hard work involved' and, as Catherine commented, it 'has given us a headstart for university next year'.
The students feel that the university study has opened up opportunities for their tertiary studies next year, and that the discipline of theology offers insights relevant to life and studies they are currently involved in.