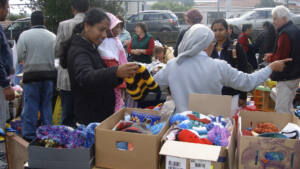 WelCom February 2023
Missionary Sisters of St Peter Claver, Island Bay – Annual Mission Fair, Saturday 25 February 2023
Sri Lanka, Zimbabwe and Ghana are all a long way from Island Bay, yet distance is no barrier to the Missionary Sisters of St Peter Claver when missionaries and the poor amongst whom they work are in great need.
The Sisters are holding their annual Mission Fair in their convent grounds, 1 Mersey St, Island Bay, on Saturday 25 February, from 10am–1pm. Everyone is welcome.
The proceeds will be forwarded to help communities with education and clean drinking water supply, including:
• the Daughters of Providence in Chilaw, Sri Lanka, who have started a hostel for Deaf-mute children, to educate and help the children integrate into mainstream society.
• Our Lady of Perpetual Help Primary School in Chinhoyi, Zimbabwe, which provides education for disadvantaged children, to help purchase furniture.
• the Diocese of Damongo in Ghana, which needs a borehole to supply clean drinking water for many communities in the diocese.
'We have been unable to hold our Mission Fair for two years due to Covid restrictions, so we are looking forward to this year's fair,' says Sr Elcy, the superior of the community in Island Bay.
'We are hoping many people will be able to come and enjoy the day with us and our friends who work tirelessly setting up and preparing the stalls. On offer will be fancy goods, jewellery, books, cakes, foods, a BBQ and more. There will be something for everyone,' Sr Elcy added.
'We also have a great raffle with 5,000 tickets at $2 each,' she said.
'Covid has caused so many people immense pain, but for very poor communities throughout the world it has been devastating because no help could reach them, so we are hoping for a very successful fair this month and look forward to welcoming many people to our convent grounds in Island Bay on the day.'
For more information please contact the Sisters at: peterclaver@xtra.co.nz or phone: (04) 383-8401.
Visit claveriansisters.com to learn more about the Missionary Sisters of St Peter Claver and their work.