Take 29 young people, eight leaders, 10 months of sessions, social events and service activities, mix them all together and what do you get? The Palmerston North Confirmation Programme, that's what!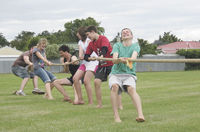 This new and improved programme kicked off in August last year, incorporating content written by Bishop Peter Cullinane, and candidates will be confirmed at Pentecost, May 23.
The plan to change from the usual six-week programme came about when Bishop Peter released a preparation booklet, which covered everything from the creation story, to why we suffer, to the importance of the Mass. This information was able to be divided into 10 sessions, which we decided to hold only once a month. This meant that the programme could include social events, which focused purely on having fun and developing relationships that will hopefully last beyond the end of the programme.
While very much a work in progress, the new Confirmation programme seems to be running successfully and the candidates have developed a strong rapport with each other and with the leadership team. So far they have covered eight sessions and have had a pizza evening, an overnight movie night (where no one got much sleep), a sports day, a games evening, a retreat day with their sponsors, a Christmas party at the end of last year, tenpin bowling (where the candidates absolutely creamed the leaders), and participated in a service project where they visited some elderly parishioners and spent time listening and sharing with them.
The highlight of the programme, the camp, has just happened.
The leadership team are doing a fantastic job in preparing the young people for Confirmation. Many thanks to them, and also to the candidates' parents and sponsors for continuing to support them in their journey.
Please pray for the candidates in your parish, as they approach the last stage of their journey.
St Patricks: Adelaide Levis, Benjamin Kelly, Caleb Jameson, Jacob Iwikau, Jonathan King, Kelly Campbell, Kelly Nixey, Liam Reilly, Tyler Neumann, Xavier McCluskey.
St Mary's: Brandon Jackson, Cameron Walker, Joe Faisandier, Jordan Martens, Jonathan Kriechbaum, Matthew Crosswell, Matthew Hurley, McLeod King, Richard Grzyb, Rosanne Edens, Ryan Collin, Teresa Anastasi, Victoria Richards, Wade Randle.
Our Lady of Lourdes: James Long, Kaitlin Kearins, Rebecca Long, Sam Murrell, Sarah Murrell.
The confirmation leaders who are helping to shape them are Andrew Aitken, Jane Dravitski, Tracey Bromell, Tim Darbyshire, Emma Dodson, Matthew Eder,Timothy Eder and Tori Prendergast.
Image: Go team go! Fighting for a win at the Confirmation Sports Day: Tim Eder, Emma Dodson, Joe Faisandier, Kelly Nixey, Cameron Walker and Liam Reilly.