Features
David Orange
3 September 2012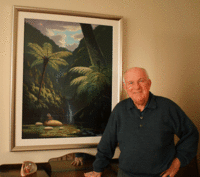 A picture of a rhinoceros which I did when I was in the primers may have been my first exhibited painting. Sister took the drawing and put it on the wall of the Standard 6 classroom for everyone to see! Imagine what that did for me!
Later when I was in Standard 6 myself, we had a great man, Br Bernard with a talent for discerning and encouraging children's gifts. Br Bernard used to enter me into art competitions – Road Safety posters was one I remember.
Once he asked my friend Michael Grimstone and me to paint a social studies assignment on Maori culture and the migration of Maori to New Zealand. Br Bernard was the main influence in my going to the minor seminary to study for the priesthood.
The minor seminary in Christchurch was basically a secondary boarding school – with attitude! We were taught by Jesuits and there was a heavy emphasis on academic achievement.
Our subjects were Latin, Greek, English, history and mathematics. In the 1950s we had to pass School Certificate in all subjects. But I was hopeless at maths. What to do? In 10 years there had not been a failure in School Certificate.
So our kindly rector, Fr Ollie Maher, agreed that I could take art as a failing subject. He arranged for me to have extra tuition on Wednesday evenings in the few weeks before the exams.
The plan paid off. I failed maths but passed art! Actually, as far as I was concerned, there was more at stake than the academic reputation of the seminary. My father worked for the Education Department and saw all the School Cert results weeks before they were published!
Since art was not on the curriculum, my drawing skill developed through illustrating our monthly college magazine, the 'Marial Corona' and by painting backdrops for our concerts and Gilbert and Sullivan operas.
Tuition from the master
When I was 18 I had the great good fortune to be introduced to Sr Lawrence rsm, well known in the painting world as Julia Lynch. Many regard Sr Lawrence as the foremost portrait painter of her day. She had won a scholarship when she was about 18 to study at the famed Slade School of Art in London. Back in New Zealand she painted judges and mayors and prime ministers – but also lots of St Mary's College girls.
Sr Lawrence had fun with art. She taught the college girls regardless of their talent and would try anything including abstract art. 'Don't be afraid of the canvas,' she would yell as she slapped the paint on with large brushes, palette knife and even her thumbs!
Sr Lawrence introduced me to oil paints. We did a couple of still life paintings together and I thought she was going to give me regular classes.
'Oh no,' she said. 'You paint and I'll criticise!'
She would phone me occasionally and say, 'David, bring me some paintings and I'll give you a crit.' She could be ruthless, 'Throw that one on the fire', but then 'Oh, I do like what you are doing in this one!'
She was completely honest and I knew exactly where I stood with her.
A few weeks ago I went to the new seminary in Auckland and saw again many of her life-sized portraits mainly of bishops but also beautiful paintings of Our Lady, including Maori Madonna and Our Lady of the Tui, that I remember from her studio in the late 1950s.
I've also recently had advice and encouragement from John Crump, one of New Zealand's finest landscape artists.
We would drive south to the West Coast, Central Otago, the Lewis Pass, Milford Sound staying in backpackers, old shearers' quarters and barns. John is a great advocate of plein-air or outdoor painting but the weather doesn't always cooperate.
John and his wife Kay have now moved south to Glenorchy at the top of Lake Wakatipu with the mountains outside the window.
So now, when I can get away, I stay with them in comfort although we still have to go out in the ice and snow to paint.
Painting is a great rejuvenator. Hospital and hospice chaplaincy, though wonderfully fulfilling, can also be rather stressful. I can paint for only two or three days a month but this is enough to enable me to take an emotional holiday from the tensions that can so easily wrap themselves around me.
The 30 or so paintings in my exhibition, which runs from Sunday, September 9 for a week at the Odlin Gallery, Lower Hutt, have been completed in the five years since my last exhibition.
They include scenes from the southern mountains, Wellington coast and harbour and others from my imagination.