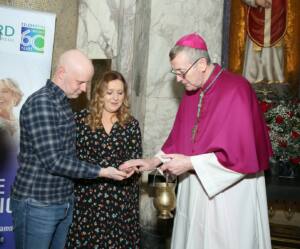 WelCom March 2023
Demand remains strong for sacramental marriage and Catholic marriage preparation courses according to new data from Accord, the Catholic Marriage Care agency in Ireland.
According to Accord's latest figures, the numbers undertaking sacramental marriage preparation courses are back to pre-Covid levels, said director Tony Shanahan. In 2019, Accord provided 285 marriage preparation programmes to 4,610 couples. In 2022 it hosted 4,610 couples on 297 programmes.
Speaking ahead of St Valentine's Day at the shrine of the patron saint of romantic love in the Carmelite Church on Whitefriar Street, Dublin, Mr Shanahan said: 'When we consider that, for 2021, the Central Statistics Office reported that religious ceremonies accounted for 57 per cent of all marriages in the state and the 6,721 Catholic marriages that year amounted to 39 per cent of the total figure, then Accord's data of today paints a positive picture in terms of the numbers who are planning a Church marriage in the future'.
Accord's data shows that the majority of couples choosing a Catholic marriage have been in a relationship for over six years and are aged between 31 and 40. A quarter of the couples were already parents with children.
'Accord welcomes everyone and journeys with them, whether they already have children or don't have children – whatever their circumstances, they are most welcome. Our preparation programme is a programme for life, not just for a day,' said Bishop Denis Nulty, President of Accord.