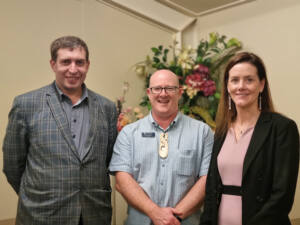 WelCom June/July 2023
Nick Wilson
On World Environment Day, 5 June, Pope Francis appealed for our shared responsibility to take action to protect the planet. He drew attention to increasing violent natural disasters devastating the globe, as he urged the international community, and people of good will, to do their part in safeguarding our Common Home.
Many people in the Diocese of Palmerston North closely experienced a violent natural disaster when Cyclone Gabrielle unleashed a trail of destruction in February. The diocese launched an appeal for funds to assist in the immediate response and aftermath of this devastating event.
The cyclone's impact was felt heavily in Hawke's Bay and Wairoa on the northeastern boundary of the diocese. People across our diocese rallied and sent goods and money for the immediate relief effort.
Financial assistance was provided to each of the eight Catholic schools in the Hawke's Bay and the diocese has been continuing with community support, including counselling and other assistance.
In May, our Young Church and Education Teams brought Michael Hempseed from Frontiers of Hope to speak to groups in Napier, Hastings, Waipukurau, and Wairoa. His topic was 'Understanding and Healing the Impact of Disasters'.
Michael founded Frontiers of Hope in 2022 to provide advanced mental-health services in New Zealand. He has previously helped communities after the Christchurch earthquakes and the Mosque attacks.
A disaster's psychological impact is often seen only three to five years later, he told parents and teachers at a combined Sacred Heart Napier and St John's College Hastings evening.
'What we know is when a disaster strikes, there is a strong sense of community and it's thought that's a protective factor.'
Keep them going, he says. 'Have community events and keep having them. Volunteering is an important tool in healing,' he said. 'This has a massive impact on wellbeing. First, you make a good group of friends, you're doing something positive for your community, and you aren't sitting at home feeling sorry for yourselves.'
Sacred Heart College Principal Maria Neville-Foster said the evening was timely. Thanking Michael and the diocese, she said, 'It helps us to understand ourselves, but it also helps us to work with the young people we are with.
'They're doing really well when they're connected with their community, and we see wonderful examples of that at school all the time.
'My take home is to try and have more social community events, so when you see those being advertised, you'll know why, and we welcome you into our community space as much as possible to try and create that going forward.'
Mrs Neville-Foster said she has a lot of hope for our young people as they move into the future. 'But it is about being aware and being able to support them on that journey, alongside their whānau.'
St John's College Principal George Rogers said it is important to unite and support one another in this time of need. 'The cyclone devastated Hawke's Bay and we cannot underestimate the mental and emotional toll this has had on our community. Michael's speech to staff and parents was well-received and much appreciated.'
Research suggests post-traumatic stress disorder (PTSD) manifests years after a traumatic event. The diocese is now planning to sponsor Dr Andy Harkin – a specialist in Australia who practices DBRT (Deep Brain Reorientation Therapy) – for a public event for mental-health specialists and practitioners.
The diocesan Cyclone Fund is now closed and our diocese is continuing to explore effective and timely distribution of the funds for the maximum benefit of people in affected areas. The diocese is committed to supporting our community in the months and years to come.
Let's continue to pray for all affected people and a spirit of generosity to assist those who are still rebuilding their lives.
Nick Wilson is Palmerston North Diocese Chaplain and Young Catholics Team Leader.