WelCom December 2020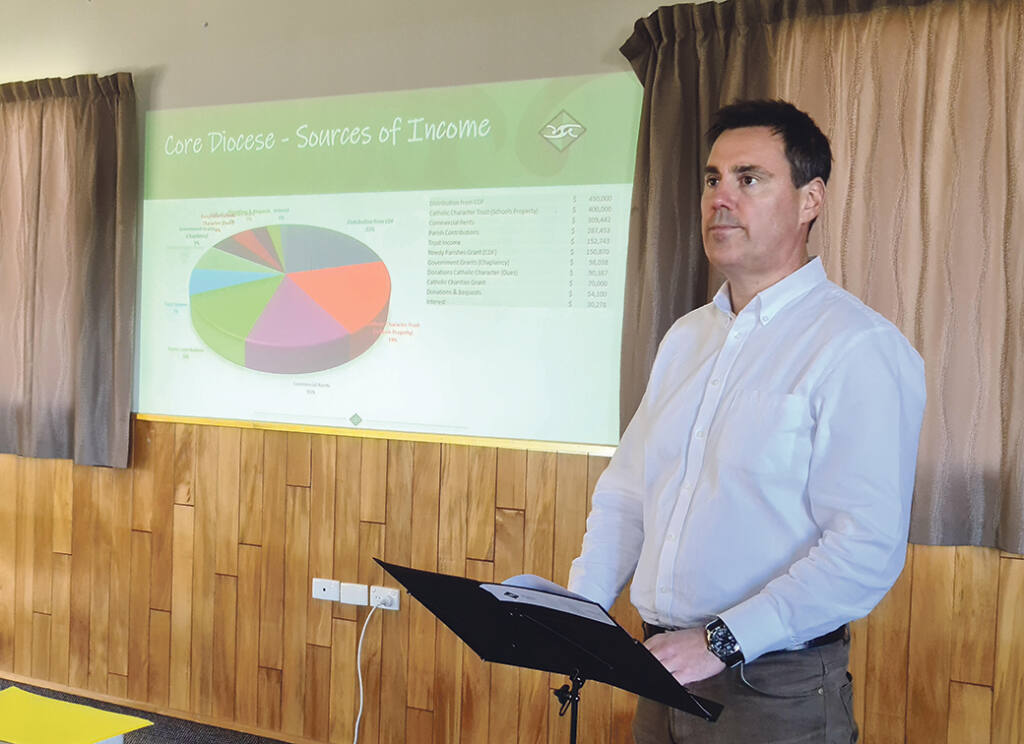 The Palmerston North Diocese annual assembly of priests, held on 7 and 8 October, opened at St Brigid's Parish Church in Feilding. It encompassed a range of presentations, prayer, reflection, and discussions including ministry, pastoral outreach and missionary transformation for the diocese.
Among the presenters were priests 'new' to New Zealand. Fr Anthony Zaw Htun – on loan to the diocese from Myanmar – presented an inspiring talk on Asian Theology and Spirituality. Also presenting were diocesan staff members Liam Greer, general manager, and Isabella McCafferty, parish and pastoral support coordinator, who updated the clergy about diocesan priorities.
'We welcomed the opportunity to address the clergy on some of our priority areas and valued their intellectual knowledge and input, said Liam. 'It was also a great chance for me to define the diocese work programme after being four months into my role.'
Liam identified priorities as being education, finance and property. He also described the challenges for diocesan operations as a result of the tightening financial climate, the need to align with compliance legislation and the management of an ageing property portfolio.
'The good news,' he said, 'involves exciting new initiatives planned for 2021', including developing vacant land to help increase the diocese's passive income.
'We are also working to develop bi-cultural relationships. Our work includes developing and implementing a culturally appropriate review framework for our two diocesan Māori Colleges – Hāto Pāora in Feilding and St Joseph's Māori Girls' College or Hato Hōhepa in Napier – in partnership with NZCEO and a group of Catholic Māori educators (Te Hōkainuku).'
Isabella said, 'It was great to be able to share with the priests some of our overall hopes for our pastoral approach for the diocese. I presented a 'roadmap for transformation', which addressed impacts of Covid-19 on the church around the world, our local experience and Pope Francis' vision that helps us develop the roadmap.
'Despite the many challenges we have faced over the last year or so, our hope is the mission will be one of transformation.'
Fr Craig Butler, parish priest of Hawera, suggested the presentations be taken 'on the road' and 'socialised' among the wider diocese. Liam agreed and the outcome was to take the presentations to the diocesan communities in November. 'We value our diocesan community and welcomed the chance to offer context to our current state of affairs and future priorities to the parishes and interested parties,' he said.
Mary Sutton, diocesan accountant, joined Liam and Isabella on their presentations out among the diocese. Open to all parishioners, parish staff, pastoral leaders, finance committee and parish council members, the team visited Immaculate Conception, Stratford; St Mary's, Whanganui; Te Rau Aroha, Diocesan Centre; and St Mary's, Taradale, 16 November.
'Our roadshow was well received and is set to become an annual event for everyone in the diocese to learn more about our ministry priorities and in turn for us to meet, listen and learn from our community,' Liam said.