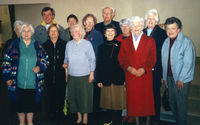 He challenged us to be continually aware of those around us in our workplaces, recreation and neighbourhoods who could be searching for God and the fullness of faith within the Catholic tradition.
The many examples Fr Alan gave of those who had contacted the centre requesting the booklets and then joined the Catholic Church were particularly inspiring.
Picture shows local Catholic Enquiry Centre promoters from back: Rose O'Leary, Fr Alan Jones, Ruth Portland, Renee and John Hagenaars, Jo Broad and Muriel Sefton. Front: Yvonne Meynell, Marianne Hay, Margaret Haddock, Esme McLean, Lucy Alderton and Phil O'Hara.