Cecily McNeill
2 August 2012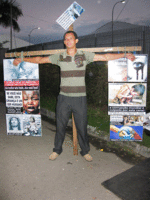 The serious implications of working for environmental protection, poverty eradication and justice for Planet Earth and its marginalised human communities were shown in sharp relief with the murders of two fishermen and environmental activists who went missing on the day the heads of states signed the final Rio+20 document of commitment – The Future We Want – on June 22.
More than 170 heads of government had been meeting in the week before at the United Nations Earth Summit to discuss climate change and how they can halt it.
Almir Nogueira and Joao Luiz Telles were residents of a coastal village on Maua beach on Brazil's Guanabara Bay.
Scoop Independent News carries a media release from AHOMAR reporting that Nogueira's body was found on June 24, two days after the Friday 22 signing. He was tied to his boat which was sunk in the waters off a local beach.
Telles was found dead the following day, washed up onshore in a nearby town. He was tied hand and foot in a foetal position.
The murder victims were leading members of AHOMAR (Associacao Homens e Mulheres do Mar), an association of some 2,000 artisanal fisherfolk who are fighting pollution of the bay that has been their home, workplace and the source of their livelihood for generations.
Guanabara Bay is heavily polluted with untreated sewage and contaminants from refineries and other industries close to its shores and the environment is suffering.
AHOMAR raises awareness of the social and environmental impact of big industries and tries to prevent the companies from killing off the fish on which they depend. AHOMAR, whose president is currently receiving police protection, has been complaining for the past five years about pollution from construction of the huge Complexo Petroquimico (COMPER, a petrochemical complex) of the state of Rio de Janeiro.
Click here for our report from the Rio+20 Earth Summit.
Image: This protester maintained a vigil outside RioCentro, the convention centre venue of Rio+20 UN Earth Summit and the People's Summit from June 15 to 23, 2012.