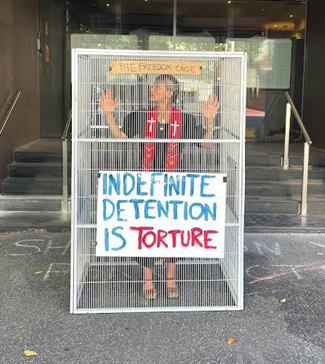 WelCom March 2022
A group of Christian leaders took turns to be locked in a cage outside a hotel in Melbourne to demonstrate their solidarity with around 32 refugees and asylum-seekers detained there. 
Sr Brigid Arthur csb, coordinator of the Brigidine Asylum Seeker Project, Baptist minister Rev Tim Costello and Uniting Church minister Rev Alexandra Sangster joined others for a peaceful protest outside the Park Hotel, Carlton, calling for the release of the men who have been held in detention by the Australian Government for almost nine years.
Their action is part of 'The Freedom Cage' campaign, a grassroots movement protesting the indefinite detention of refugees.
Sr Brigid offered an apology to the detainees for the mistreatment they have received.
'You came to our country asking only for protection, and to our shame we locked you up and we're still punishing you. We are sorry,' Sr Brigid said.
Rev Sangster spoke of the situation of the men in the Park Hotel as an 'epic failure' of human rights. 'We wish that our actions could stop this insane abuse of power,' she said.
Nine years on from the harsh policy changes that saw more than 3,100 asylum seekers sent by Australia to offshore detention in Nauru and Manus Island in Papua New Guinea, there are still 219 held in offshore detention and around 70 held in Australian detention centres, after being transferred to Australia for medical treatment not available in Nauru and PNG.
Advocacy groups intend to continue to hold prayer vigils and rallies opposite the Park Hotel to show support and solidarity for the men inside.