WelCom April 2020: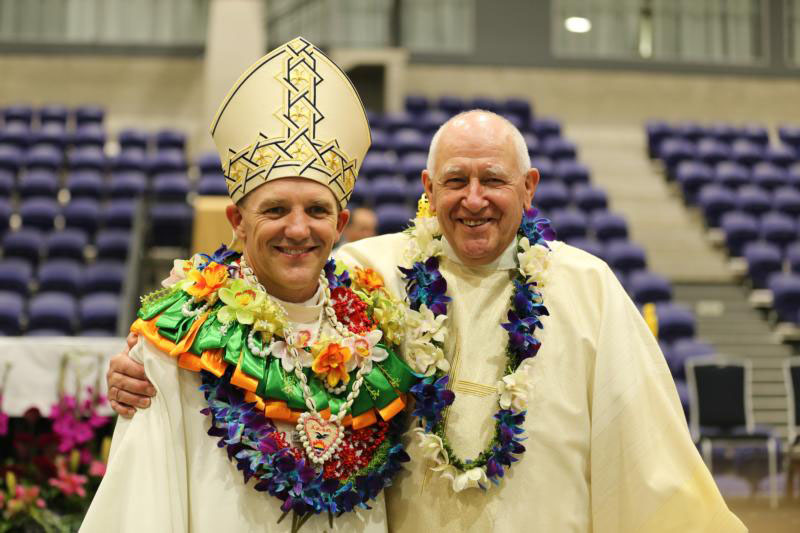 Bishop Michael Gielen was ordained by Bishop Pat Dunn, Bishop of Auckland, on March 7 in a joyous, uplifting, multicultural ceremony. The Vodafone Events Centre in Wiri, Auckland, was used, rather than St Patrick's Cathedral, because a huge congregation wanted to attend the ceremony and celebrations.
'The joy and excitement was palpable', said Bishop Dunn. 'How uplifting to see so many young people involved. The music and ceremony was extraordinary, representing our ancient traditions as well as the culture of the many communities who form part of our Church.'
Bishop Gielen, aged 48, is the son of Henk and Maureen Gielen of Mount Maunganui. He is the eldest of six children. He is a keen sportsman and enjoys cricket, rugby, cycling and golf.
After working in the justice department for a couple of years, Bishop Gielen began seminary formation at New Zealand's Holy Cross College in 1992.
He was ordained a priest at the age of 26 for his home diocese of Hamilton in 1997 and has worked in a number of parishes in the Hamilton Diocese first as assistant and then as parish priest. In the course of his priesthood, he studied for a Master's in Theology at Franciscan University in Steubenville, Ohio and completed a Licentiate in Theology at the Pontifical Gregorian University in Rome.
He returned to New Zealand in 2014 and was appointed director of formation at Holy Cross Seminary in Auckland.
Fr Neil Vaney sm, Pastoral Director of the Catholic Enquiry Centre, was at the ordination ceremony, which he described as one of 'beauty and solemnity'.
Writing about the ordination ceremony, Fr Vaney says: 'As I look back over this ceremony I am struck by the symbolism of the family of faith in Catholic teaching. The ceremonies were solemn, superbly orchestrated, and sustained by the loving attention to detail of hundreds of singers, servers and organisers. But there was also a simplicity and joy that radiated from the loving presence of Michael's family, from his father Henk, who is a deacon and read the gospel, to the youngest nephew who read his bidding prayer with such sincerity and trust.
'This was truly family, hugely diverse in race, tongue and culture but drawn together by something much greater, the presence of the risen Christ, which filled the Events Centre.'