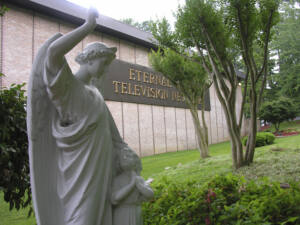 WelCom April 2023
A new bishop in Spain has banned his local television station from carrying any content produced by the massive EWTN (Eternal Word Television Network) religious media conglomerate on grounds of preserving unity with the Pope.
Bishop Fernando Prado Ayuso of San Sebastián, Spain conveyed his decision two days after he was installed as bishop. In his announcement he said that no content from the EWTN channel would be broadcast on the diocesan television Betania. Betania TV is the formal diocesan media outlet.
Founded in 1981 by Mother Angelica, an American Franciscan nun famous for her feisty sense of humour and direct rebukes of both bishops and so-called 'liberal' trends in American Catholicism, EWTN is the largest Catholic media conglomerate in the world, with an international audience of more than 380 million television households in 150 countries and territories throughout the world.
The network has consistently received backlash for programming critical of Pope Francis and has been criticised for presenting their editorial stance as the only true interpretation of the Catholic faith.
Speaking to fellow Jesuits during his visit to Slovakia in 2021, Pope Francis said that Catholic media critical of the Pope do 'the devil's work,' saying, 'I personally deserve attacks and insults because I am a sinner, but the Church does not deserve them. They are the work of the devil.'
Asked by a Jesuit how he handles critics who look at him and his decisions with suspicion, Francis referred to 'a large Catholic television channel that has no hesitation in continually speaking ill of the Pope,' and while he didn't mention any names, the remark was interpreted by many as directed at EWTN.
Source: Crux