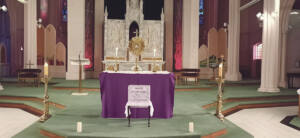 WelCom December 2022
Before the start of Holy Week in April this year, on 8 April about 100 parishioners spent time in silent adoration during a 13-hour night vigil. Adoration was enhanced with rosaries, hymns, bible readings and prayers for divine mercy. It was an opportunity to place heartfelt prayer intentions and thanksgivings to Our Lord, which were offered during Mass.
The prayer intentions were deeper personal relationship with HIM; deliverance of humanity from the Covid-19 pandemic; recession of the war and human suffering in Ukraine and Russia and in the world. It was also an opportunity to offer food and koha for the local St Vincent de Paul Society foodbank.
Holy Eucharistic Adoration is conducted every week for an hour at 11am on Fridays at Our Lady of Lourdes Church, Palmerston North, and at 6pm at the Cathedral of the Holy Spirit. 'Come and see that the LORD is good.'
Eucharistic Adoration Team, Cathedral of the Holy Spirit, Palmerston North.