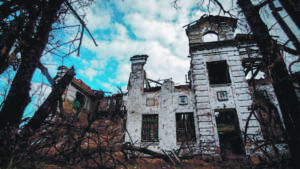 WelCom November 2022
European bishops have voiced solidarity with those impacted by the ongoing war in Ukraine and appealed to Russia to stop the violence.
In a statement, delegates from Europe's bishops' conferences expressed 'deep sadness at the horrific human suffering inflicted on our brothers and sisters in Ukraine by the brutal military aggression initiated by the Russian authorities. We remember the victims in our prayers and wish to express our closeness to their families.'
A recent escalation in attacks, the bishops said, risks 'increasing further expansion of the continuing war, with disastrous consequences for humanity.'
'The war in Ukraine also affects us directly as citizens of the European Union,' they said, and pointed to all those impacted by an 'increasingly dramatic socio-economic hardship due to the energy crisis, rising inflation and the soaring cost of living.'
Crises such as these 'make us realise the deep value of the European Union and its founding vision,' they said, and voiced gratitude for 'the tireless efforts of European decision-makers in showing solidarity with Ukraine and in mitigating the consequences of the war for European citizens.'
'We strongly encourage these leaders to maintain their unity and to remain committed to the European project,' they said.