WelCom December 2022
India is preparing to celebrate a solemn exposition of the relics of St Francis Xavier, which is expected to draw millions of people of all religions to the archdiocese of Goa. In accordance with a long-standing practice, the exposition of his sacred relics occurs once every 10 years.
Cardinal Filipe Neri Ferrao, Archbishop of Goa and Daman, announced the seven-week-long exposition of the 16th century Spanish Jesuit saint whose body is placed in a silver Mastrillian casket in the Basilica of Bom Jesu in Old Goa, the former capital of colonial Portuguese India. The colonisers used Goa, a Portuguese enclave from 1510 to 1961, as a political and missionary springboard for activities in Asia.
The exposition will begin on Thursday, 21 November 2024, and end on Sunday, 5 January 2025.
During the exposition, the relics of St Francis Xavier, one the co-founders of the Society of Jesus, will be placed on a podium so as to better allow pilgrims to see the relics.
'The decennial event gives the faithful an opportunity to reflect on the faith journey of St Francis Xavier and to emulate his zeal for the Gospel,' said Fr Barry Cardoza, director of the Diocesan Centre for Social Communication Media.
Close to four million people came to the Basilica of Bom Jesu when the last exposition of the Spanish missionary was concluded in January 2015. It is expected that like last time, more than 1,000 pilgrims, mostly Hindus and Muslims, will walk for eight days from the neighbouring Maharashtra and Karnataka states in western India to reach the archdiocese. On their way, the pilgrims make nightly halts at villages, where they will interact with local people before resuming their journey on foot the next morning.
St Francis Xavier, popularly known as Gõycho Saib (Lord of Goa), sowed the seeds of the Catholic faith throughout the East and was canonised on 12 March 1622.
Source: La Croix International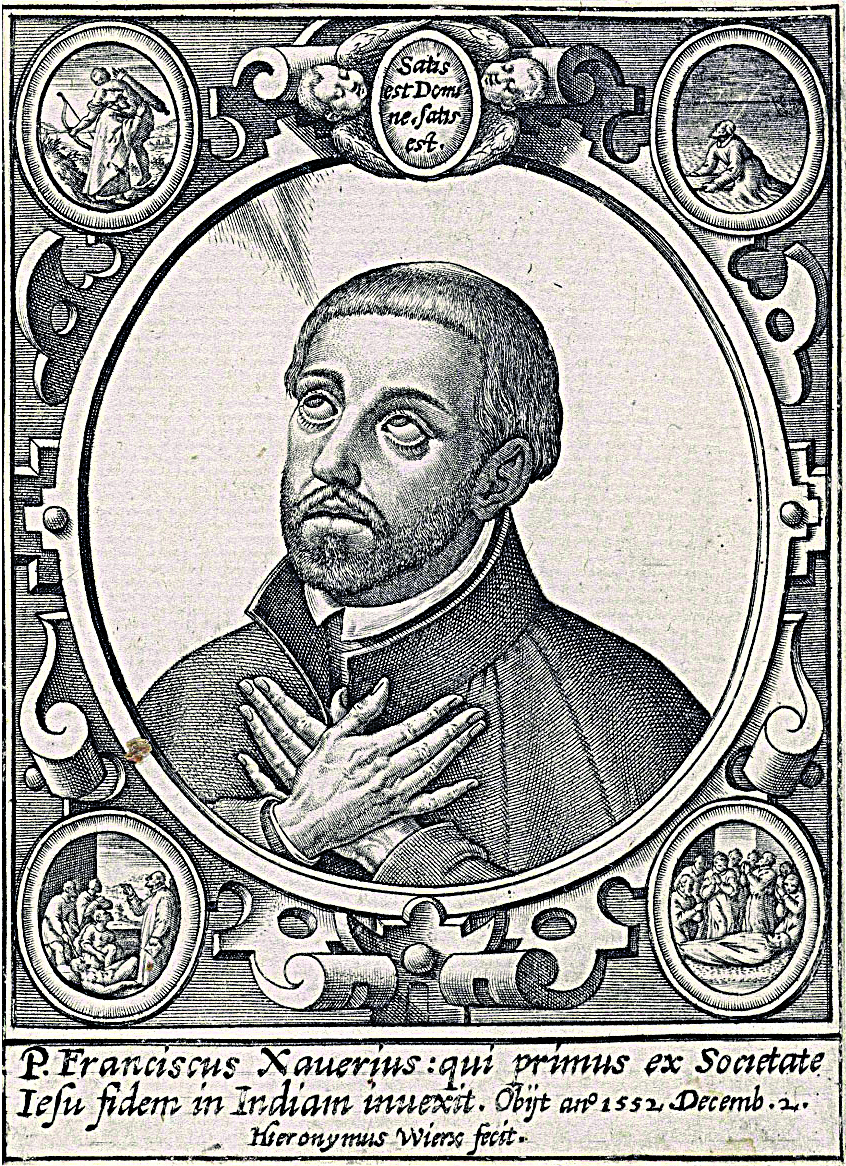 Known as the Apostle to the Indies and to Japan, St Francis Xavier (1506–1552) was born in Spanish Navarre, the youngest in a large family. He studied at the University of Paris, where he met St Ignatius of Loyola, and was among the first seven Jesuits who vowed to be spiritual soldiers for Christ. They were ordained as a group in 1537. For 11 years, from 1541 until his untimely death in 1552, after only two weeks on the Chinese coast, Francis evangelised in the East Indies, Mozambique, India, Malaysia, Sri Lanka, Indonesia and Japan. Francis is the patron saint of missionaries, Borneo, the East Indies, India, Pakistan, Japan and Outer Mongolia. His feast day is 3 December.
A engraving of St Francis Xavier. Rijksmuseum, Amsterdam