Olivia van Woerkom
17 August 2011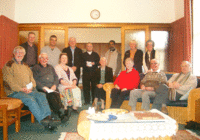 A gathering to farewell three leaders of the Hutt Valley RCIA team was held at Ss Peter and Paul Parish on Saturday June 18. A lovely afternoon tea was shared by course leaders, local priests and parish council members and gifts of appreciation were given to long-serving leaders of the group.
Denis Cheetham and Sr Moira Ross who have led the group for the past 15 years are retiring along with Ronnie Parton who has also served the group for many years. The team has for many years provided formation and support for adults in the Hutt Valley preparing for the Rite of Christian Initiation for Adults.
The programme begins each September and those participating meet every Sunday afternoon until the following Easter, when they are baptised, confirmed and receive First Eucharist at the Easter Vigil. The group follows the book, I know you are near: a journey to faith by Fr Alan Roberts, working through 16 chapters and covering everything from 'Experiencing God' to 'Priesthood'.
The group is currently looking for some new leaders. If you are interested, contact Ss Peter and Paul Parish Office at secretary@hutt-catholic.org.nz
The Hutt Valley Pastoral area is grateful for the faithful service of this group.
Image: Back: Kevin Sharkey, Richard Pollock, Fr Bruce England, Mgr Charles Cooper, Fr Verghese Thuruthichira, Mary Zajkowski, Ronnie Parton. Front: Terry O'Donnell, Fr Michael Stieller, Kathryn Hughes, Sr Moira Ross, Val Dooley, Denis Cheetham and Eric Stalker.