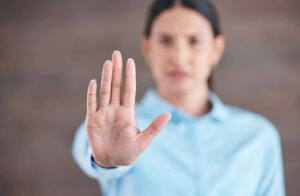 WelCom November 2023
Statistics show that women of faith are more exposed to sexual abuse than others, no matter what religion they belong to. A survey carried out in 2000 showed that 7.8 per cent of women with no religious affiliation were victims of domestic violence, while the figure rose to 9.1 per cent for Catholic or Protestant women, and 17 per cent for Muslim or Jewish women.
This reality led the Conference of Religious Leaders in France, which was created in 2010, to meet in Paris in September 2023 for its first-ever study day on sexual violence.
'This is a major first. All religious denominations recognise that they are concerned by this scourge, and agree to reflect together,' explained Valérie Duval-Poujol, vice-president of the Protestant Federation of France and co-organiser of the day.
She pointed out that France's Independent Commission on Sexual Abuse in the Catholic Church (CIASE) and the Catholic Church have paved the way for this mea culpa. 'The Sauvé report is a historic milestone in the fight against sexual violence,' Duval-Poujol said in reference to the 2021 report produced by CIASE and its chairman Jean-Marc Sauvé.
Religions, in their various forms, appear to be 'massive weapons of submission' vis-à-vis women, which may be a start towards explaining the 'aggravating factor' and greater violence against women of faith. The religious communities want to explore the issue with the French government, which was represented at the study day by Juliette Part, head of the central office for religious denominations at the interior ministry.
Source: La Croix International